Burger Bae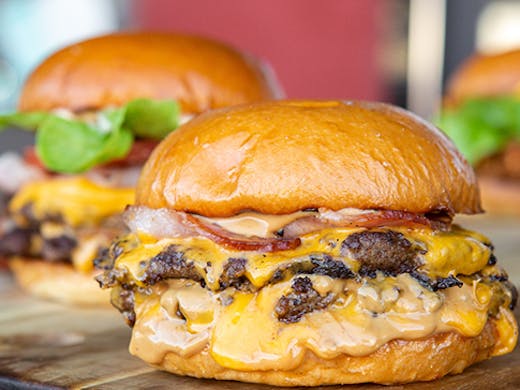 The Verdict
In every Melbourne suburb, you'll find at least one cult burger joint that all the locals will point to. If bayside suburb, Sandringham, was ever lacking in that department, it certainly isn't now. 3191ers have Burger Bae to thank for that—a burger joint with an impeccable name and even better patties.
You'll find a serious grip of beef burgers on the menu, like the Single Bae—a single patty burger with bae sauce—right across to the deliciously ostentatious Double Baecon. There's also a Naked Bae without buns, which provides a lighter alternative to the classics and far too many innuendos.
Like every discerning burger joint, you'll find several worthy chicken options on the menu, a sizeable mushroom burger, loaded fries, and shakes—aka Thick Bae Shakes.
If for whatever reason, you need another reason to up the ante on your cheat meal, take on a Peanut Butter Bae. With this burger, the beef patties are lathered in creamy peanut butter sauce, and the results are glorious.
Regardless of what's in your basket, ordering and eating from Burger Bae is a damn good time.
Available for takeaway and delivery via Uber Eats.
Image credit: supplied
---