Burger Project | Bourke St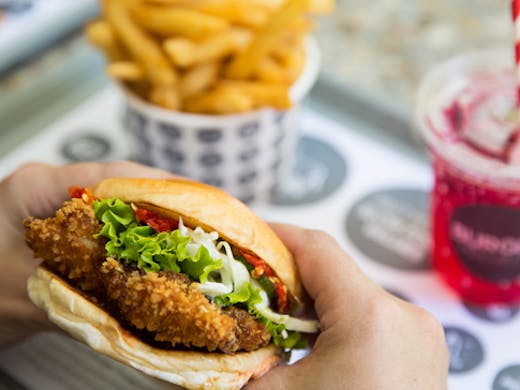 The Verdict
There aren't many places left where you can get free soft drink refills. But we're happy to report Neil Perry's new Burger Project goes one step better.
Not only can you drink as much Coke, Fanta and Sprite as your stomach can physically hold, you also get unlimited housemade iced tea and raspberry lemonade. Bottomless. As much as you want. Cup after cup. (We're running out of ways to emphasise how great this is.) Just tack on a drink with your burger meal and you can sit there for hours, probs building up a truly phenomenal sugar high. It's a nice touch from the burger maestro, and it's not the only surprise in the new Bourke St venue.
For starters, the place is gorgeous. CBD regulars will know it as the old Sake Jnr site—a lofty, two-storey fit-out with plenty of natural light. Tables spilling out into the sunny forecourt. Hanging plants everywhere. A few flatscreens, playing a loop of music and sports channels. The perfect spot to kick back and carb-load.
Let's get onto the burgers, shall we? Burger Project fans can expect the same slow-food, ethically sourced ingredients. The beef comes from Cape Grim down in Tassie. The chooks are Lilydale free range. The milk is straight from the pastures of Gippsland. And trust us, you can taste the difference.
The new Bourke St store will be a testing ground for limited edition burgers, whose flavours will rotate every 8 weeks or so. We tried the Chicken Katsu Burger with lettuce and hand-pressed chilli, and it was effing delish. Of course, if you're after the classics, the Chilli Cheese Beef Burger or Confit Mushroom are both top-notch. Throw in a side of crispy chips and a strawberry shake and you've found your happy place.
The new bar is slinging a range of craft beers, most from down Mornington way (think Hop Culture and Pale, and Young Henrys Real Ale and Natural Lager). There's also a pretty sweet 'Hoppy Hour' from 3pm to 6pm—$5 beers and a $10 burger & chips combo. Sweeeet.
One final tip? The desserts. Oh lordy lordy these are good. Whole milk soft serve, topped with all sorts of deliciousness. Our pick is the Blueberry Pie: vanilla bean ice cream with blueberry compote & biscuit crumble. It's criminally good.
Image credit: Annika Kafcaloudis
---