Burgerlove | St Kilda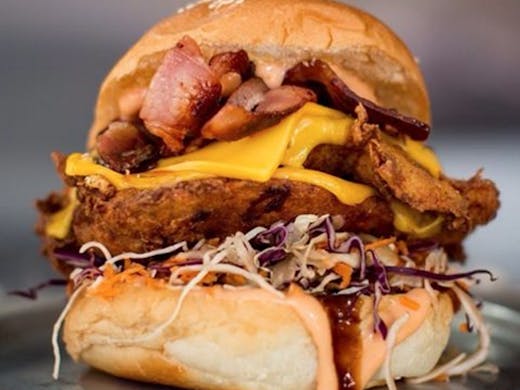 The Verdict
If you know anything about burgers (and we can assure you that, here at The Urban List, we know just about everything about burgers), you'll have heard the name Burgerlove (formerly Cafe 51) mentioned with great reverence. The South Melbourne burger mecca has recently opened its second venue, in St Kilda, where it will be serving up double and triple-stacked meaty goodness to the southside's hungriest burger fans.
Whether you're a fan of fried chicken, a beef patty purist, or the sort of burger guru who goes for a sweet waffle between your bacon and pickle slices (no, we're not kidding), the team at Burgerlove have the burger for you.
While you will find a veggie burger on the menu, you simply can't look past the meat options. From the bacon and cheese stuffed Juicy Lucy patties, to the Death By Chocolate stack (which includes American cheddar, bacon, Nutella, popping candy and BBQ sauce), you're bound to find a burger combo that's doing something new.
Open for lunch Thursday through to Sunday too, Burgerlove is guaranteed to fill a #fatfeed gap in your stomach. Ditch the diet and load up on the good stuff at this St Kida newcomer.
Image credit: Burgerlove via Instagram
---