Burnley Brewing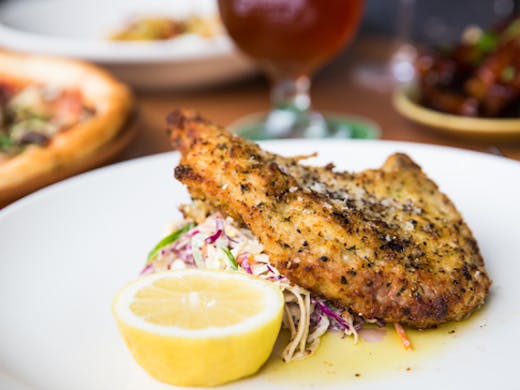 The Verdict
There's something interesting happening down the Yarra end of Bridge Rd...One by one, cool little venues are popping up, turning this once sleepy strip into a craft beer bonanza. And the latest wolf to join the pack is this guy—Burnley Brewing.
It's a collab between brewers Neil Mills and Phil Gijsbers (Saint James Cafe, Hard Pressed Coffee, Pedro Espresso and a bunch more) and the owner of Romulus and Remus, Renton Carlyle-Taylor (Milton Wines, Toorak Cellars and The Alps). Phew, that's some boozy fine dining pedigree right there.
As brew houses go, this one's a little different. It doesn't rely on industrial chic or chunky timber. The palate is kind of muted—lots of sea blues and soft greens. A mix of high tables and squishy leather lounge booths. Big-old wooden bar where people can sit up and discuss the merits of IPAs vs Pilsners etc. If it looks familiar, it's because this was the old Romulus and Remus, which kept Richmond happily fed for years.
In fact, Neil and Phil liked the old place so much, they're kept the old kitchen staff, and a lot of the menu. That's why you'll find American-style beer nosh like sticky lamb ribs (outrageously good, just FYI) alongside Italian classics like crispy gnocchi with peas and chorizo, or house-baked pizzas, topped with prosciutto, fig jam and walnuts. Your traditional ale house, this ain't.
Personally, we're coming back for another crack at the pork rib eye schnitzel and slaw, hereby known as the greatest hunk of schnitzel this city has ever seen. Goes down pretty bloody well with a fresh Vienna lager, let us tell you.
Speaking of beer, the plan is to brew the cold stuff right here in the venue (the boys have already installed a couple of ceiling-high brew vats—they had to shut down Bridge Rd...) In the meantime, they've brought in beer expert Michael Stanzel to help them work on the brews, and the results are awesome. Our personal favourite is the zingy Pale Ale (spiked with citrus and fruit), but there's something on there for everybody. Order a tasting paddle and just go nuts.
Image credit: Jenna Fahey-White
---