Butcher's Diner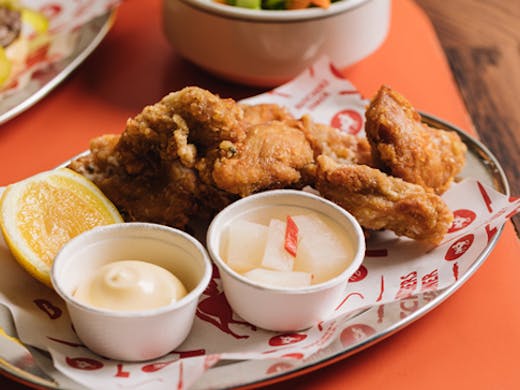 The Verdict
Melbourne night owls, this one's for you.
It's 3am in the CBD and you're craving a good feed. What are your options? If your tastes run anywhere north of a quarter pounder, there's one place you need to check out. The city's brand new 24-hour diner, dishing up Supper Club-level produce...at takeaway prices.
The name? Butcher's Diner. And keep your apostrophes to yourself.
It's the latest venture from Con Christopoulos (Siglo, Supper Club, City Wine Shop), so you know it comes with some pedigree. Downstairs you've got a 50s-style diner: big communal table, topped in timber and Swedish linoleum, bar stools ala Pellegrini's, little jars of horseradish, Dijon, seeded mustard and tomato chutney. Upstairs there's the private function room—a stained-glass bodega space, straight out of Buenos Aires.
The name is a cheeky red herring: Simon Poole, the European Group's head butcher, will be slicing and dicing in the glass-enclosed boning room (take a peak through the wracks of air-dried Cape Grim beef), but you can't buy cuts here. The meat goes straight into the menu.
And a sweet little menu it is. Largely takeaway, with nods to traditional American and Melbourne diners, down through the ages. Grilled cheese toasties for $6 bucks, Cape Grim cheeseburgers (seasoned with salt and pepper) with big tongues of pickle hanging out the sides. Coney Island chilli dogs, steamed dimmies and a wicked tiramisu for afters.
There's even a pint-sized yakitori grill in the kitchen, which chef Steve Lichter uses to char everything from Greek pork skewers to Japanese duck hearts (triple soaked in milk, to remove impurities). It's meaty, rib-sticking grub, with a few vegan and veggo options to keep things interesting. Think delicate seasonal vegetables, dressed in olive oil or crispy tofu rolls, stuffed with tangy vermicelli slaw.
To wash it down, take your pick: craft tinnies or screw top wines by the half bottle. Christopoulos is going for casual, but that doesn't mean sacrificing quality. Beer-wise, there's Yeastie Boys pale ale, a ripping red from Rodenbach and a smoky porter, courtesy of Blackman's Brewery. The wines are mostly local drops from Macedon, Mornington or across the ditch in Marlborough.
Beer, burgers and Bourke St. That's a winning combo right there.
Image credit: Griffin Simm
---