Cafe Blush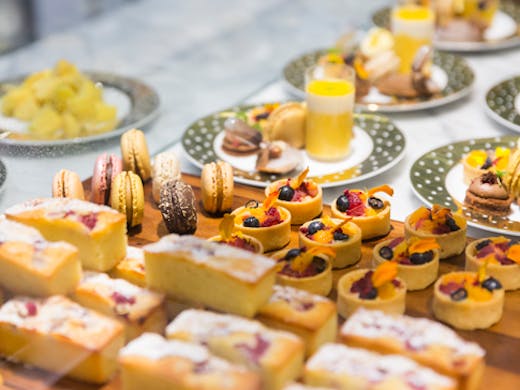 The Verdict
Fusion cuisine is always a dicey game, but when someone really nails it—you notice.
Emporium's new high tea salon, Cafe Blush, is pushing fusion food to its geographical limit. There are 9,000km between Italy and Japan, and the Calia Collective chefs have decided to put them both on a plate at the same time.
So what does that look like? Think dishes like Mentaiko pasta: spicy Pollack roe stirred through fresh pasta and topped with shiso and nori. It's a fiery, briny, salty combo, perfect for anchovy-lovers.
If cutting-edge fusion isn't your scene (for some people, there'll always be a reason God put Italy and Japan so far apart), Cafe Blush also does your more traditional high tea fare. Strawberry parfait, layered with cream, house-baked madeleines and brownies, Early Grey Crème Brûlée with delicate almond tuiles, or even an umami-packed mushroom soup.
The high tea sessions run all day and will set you back $49.90pp. Whack on Chandon Rose for an extra $10, or go all-out with Moet for an extra $20.
Now the big question: do we eat the Japanese pasta with chopsticks? This is a fusion minefield...
Image credit: Cafe Blush
---