Cafe Zumbo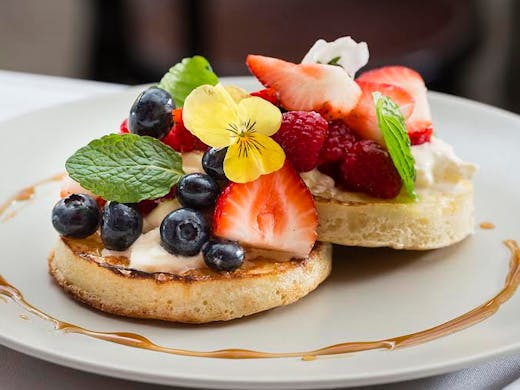 the verdict
Macaron-whisperer Adriano Zumbo is yet again the best thing to happen to the southside since sliced bread. Oh, you know, and because he's Adriano Zumbo and he just couldn't help himself—so he has taken it to the next level with SOFT SERVE DONUT CONES! They are probably the one of the most 'grammable desserts we have ever laid out food porn obsessed eyes on. We recommend a nice Mayfair filter to really make the colour pop.
While we all know and love South Yarra patisserie, Cafe Zumbo, for its sweet treats, hungry early birds can now sink their teeth into the colossal breakfast burger (bacon, smoked mozzarella, pancetta, fried egg, ragu and fresh ricotta, all crammed into a milk bun that's come fresh from the Zumbo kitchen), a spiced soy morning broth with veggies, and THREE varieties of indulgent pancakes. That's breakfast for the next few weekends sorted!
If you're looking for healthier fare, the granola and paleo museli are both winners—team them with a fresh juice and you're good to go.
Thankfully, you'll still be able to pick up mouth-watering desserts and coffee from the Zumbo team as per usual. Now, is it time for a 3pm treat yet?
Image credit: Adriano Zumbo
---