Cake Bar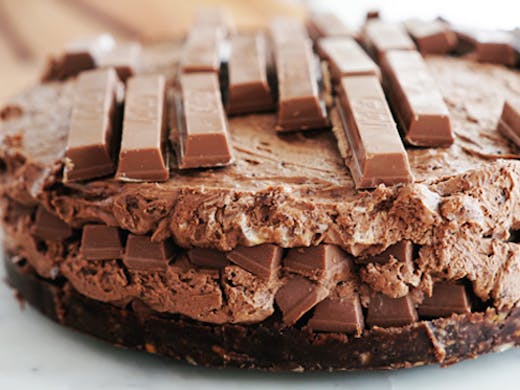 The Verdict
Cake, coffee and cocktails. That's the holy trifecta being served up at Cake Bar, Geelong's brand new, err, cake bar.
If you're familiar with Geelong, you'll know the building already. It's the old rug shop on the corner of Moorabool St in the city centre (the one that's been closing down for like twenty years). Well the rugs are finally gone, and Charles Corby has moved in. If the name rings a bell, that's because Charles was involved with Geelong's first dessert bar—Armageddon Cake.
Now he's gone out on his own, launching a competing cake shop just 'round the corner. Let the hunger games begin...
"Cake Bar is the place to be for Gran's good old-fashioned, tasty cakes...with a naughty twist," says Charles.
Naughty is right. There's nothing understated about these things. We're talking Kinder Surprise Mousse Cakes, Salted Caramel Popcorn Cake, Caramello Koala Chocolate Cheesecake and classics like Aussie Pav' and Cadbury Chocolate Mousse Cake. That thing in the picture above? Yeah, those are bloody Kit Kats. Get the picture?
Cake Bar's liquor license is almost here, and Charles is planning on keeping the drinks list local. Craft labels like Blackman's and Jack Rabbit, wines sourced from the Bellarine Peninsula, and some wicked dessert-themed cocktails.
The coffee's top notch too. Coffee Machine Technologies up the highway in Melbourne have supplied Cake Bar with something new—a Tech Bar. It's a beer tap-style machine that doesn't rely on a boiler. Pull the handle and you get piping hot filtered water in every cup. Tastes pretty good with an Italian-designed roast by Fiali *kisses fingers*
So long, diet goals. It was nice knowing you.
Image credit: Cake Bar
---