California Burgers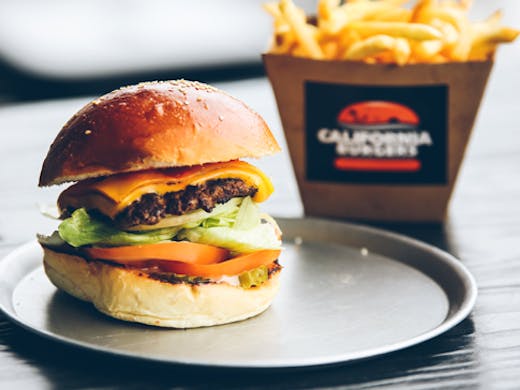 The Verdict
It's 3am on Saturday morning in Windsor. You've just spent the night doing awful dance moves at Revs or Poof Doof and you're craving something fried and unhealthy and utterly delicious. Where do you go?
If you're smart, you'll make a bee-line for California Burgers at the top end of Chapel St, just opposite Windsor station.
California is an old souvlaki joint that's been around for nearly 10 years (they still have the smoky charcoal souva pit, glowing coals sizzling lamb and all). In 2015 they revamped as an LA-style burger bar, and they've been slinging late-late-night burgers to the Chapel St faithful ever since.
Now a lot of place market themselves as LA-style, but it takes more than a Hollywood sign on the wall to qualify as legit. These guys are different. Owners Theo and Rosemary Tzavaras are—to put it bluntly—California nuts. They've been back and forth across the Pacific more times than they can count. And each time they visit The Golden State, they hire a car at LAX and drive around for weeks, tasting burgers and picking up tips
The result? Burgers that are pretty darn close to the In-N-Out style. Smashed 100g patties, made fresh by Theo each day to a secret recipe. Gooey American cheese, buttery brioche buns from Breadtop, and fresh notes like tomato, lettuce and (here's the special bit) a ring of raw onion. It's something you usually only see in fish n' chipper burgers, but with Theo's lux smashed patties and a lug of mustard and ketchup, the whole thing reaches new levels of deliciousness.
The burgers on the menu are all named after parts of California, and (a nice touch) styled like them too. So the Compton Burger comes with crispy fried chicken and a spicy BBQ-Sriracha sauce. The Muscle Beach is a protein-busting four patty monster. And the East LA Burger is loaded with jalapenos and Vatos Locos Hot Sauce (a nod to the Mexican cuisine of the area). Our pick? The L.A.X Burger: two smashed patties, to slices of cheese, lettuce, tomato, raw onion, pickles and pink mayo. An absolute knock-out, and much fresher than your standard Melbourne double stack.
Wash it all down with US soft drinks like Dr Pepper, Leninade, Strawberry Fanta and (hells yes) Mexican Coke. Pro tip? Ask for the secret 'Animal Style' menu. You'll thank us later.
Image credit: California Burgers
---