Cannoli Bar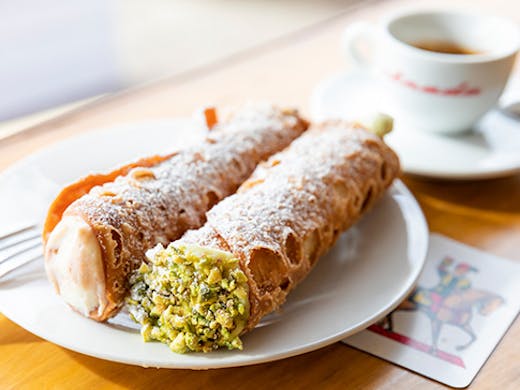 The Verdict
Riviera Rd in Avondale Heights is an entirely unremarkable street, except for one tiny thing. It's home to Melbourne's only dedicated cannoli bar.
Seriously, you're cruising along past one-storey, mustard brick buildings and cracked driveways, the odd tangled garden hose—then this place. A pistachio-crumbed Italian Cannolificio in an old suburban milk bar.
Carlo Mellini is the owner here, and he's been quietly obsessed with ricotta-piped cannoli since he was a kid back in Italy. The idea for Cannoli Bar was pretty simple: go back to old-school Sicilian cannoli, and do them properly.
That's why the cannoli here are piped in front of you. Carlo and the team take the crispy, flaky pastry shells and squeeze in sweet ricotta mascarpone till it oozes out the other side.
There's all sorts of other stuff in there too: dark couverture choc, Nutella (if that's your thing), candied orange or lemon. The sky's the limit really.
Carlo and his father Mellini (ex-chef at The Gradi Group, and the brains behind the actual cannoli) aren't too precious with the theme either. They're prepared to have a bit of fun (desserts should be fun, don't you think?) That's why, along with Sicilian staples, you'll find Oreo, Nutella and Ferrero Rocher cannoli.
Brunswick's Nomadic Roasters are handling coffee at the moment, and Carlo's deliberately gone for beans that match the Italian palate (nothing too floral or fruity). The jukebox is tuned to non-stop Italian goodness, and there's a range of other treats in the front cabinet: tiny piped biscotti, rustic eggplant pizzas and delicate blueberry tarts.
We'd recommend getting their Ferrero Cannolo, it has a delicious chocolate coated shell rolled in roasted hazelnuts, and is filled with chocolate hazelnut ricotta with a Ferrero Rocher on the ends. Amazing.
Image credit: Mel Desa
---