Céramiques Elsternwick
CONTACT
Ph: 0424 822 644
Visit Website
27 Horne St
Elsternwick , 3185 VIC
Show on map
closed
---
Opening Hours
| | |
| --- | --- |
| SUN | 12:00pm - 6:00pm |
| MON | 10:30am - 7:00pm |
| TUE | 10:30am - 7:00pm |
| WED | 10:30am - 7:00pm |
| THU | 10:30am - 7:00pm |
| FRI | 10:30am - 7:00pm |
| SAT | 10:00am - 5:00pm |
---
The Details
Hunting For
---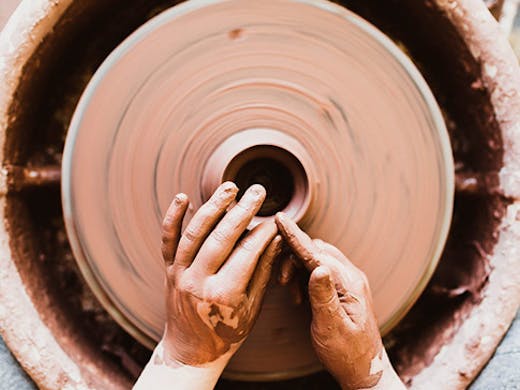 The Verdict
If you ever tried wheel pottery in school, you'll know it's a) messy as hell, and b) a LOT of fun. It doesn't even matter if your bowl comes out looking a bit wonky—call it 'rustic' and bump the market-stall price by 20%. Everyone's a winner.
Céramiques is a new pottery school and event space in Elsternwick which embraces the 'Just give it a go' school of artistry. They run group classes in wheel-based ceramics, designed to help you master the skills of throwing, hand building, sanding, glazing, 'pinch potting' and coiling. And if your memories of Year 7 pottery are a little hazy, no stress. This isn't about building the 'perfect' vase or anything. It's about having fun and finding a spark of creativity.
The space itself is beautiful: a narrow pottery den with distressed timber floors, white-washed walls, breeze block shelving and scattered greenery hanging from the ceiling. Down one side are your stools, and in front of each one: a spotless Venco direct drive pottery wheel (they won't stay spotless for long).
Each class is a two-hour session, and you sign up for four consecutive weeks at a time. That'll set you back $220 for a month-long term, which includes the glazing and firing (you shouldn't have to pay more to see your finished product, right?) Kids over 15 can join the class, but they'll need a parent or guardian to sign up too.
Keep an eye out for semi-regular art installations too. Céramiques will be hosting 'A Great Tree' on the 28 April: a synth-heavy electronic composition with lighting that reacts to the music in real time. Tickets are just $5 and all ages are welcome. You can check it out from 7pm – 10pm on the night.
If you've ever wanted to give wheel ceramics a go, this is the spot. Pro tip: reward your new-found artistic abilities by sinking a couple of post-class pints at Bang Bang At The Rifle Club, just down the road.
Oh yeah one more thing, anyone that knowingly or unknowingly recreates the scene from Ghost is barred for life (not really...but really). You've been warned, people.
Image credit: Ceramiques Elsternwick
---