Cibi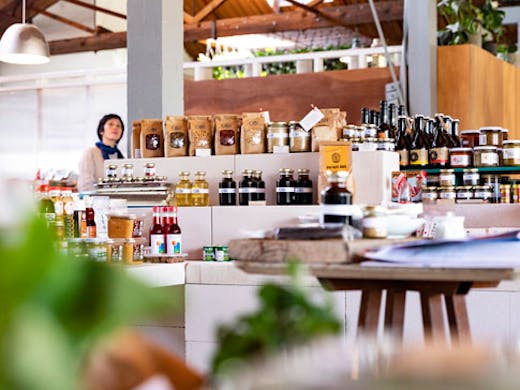 The Verdict
We're sitting inside CIBI's new warehouse cafe, and co-owner Zenta Tanaka leans across the table. "Just tell people how it feels." That's a very CIBI approach to life in general.
The whole point of CIBI's new Collingwood space is soaking it up. Being present. Appreciating the little things. So let's start with the fit-out: Cibi now sits in a cavernous, light-filled, timber-roofed warehouse on Keele St, just 20m down from the old cafe. There's a Jumanji-esque plant store in there (The Plant Society), a high-end picture framer (United Measures) and CIBI's own cafe, design store, and homewares space.
We hate to dust off the old 'one stop shop' cliché, but that's how it feels. CIBI somehow pulls off retail, good coffee and Zen-like community vibes without breaking a sweat (although they break plenty of smiles). There's Astroboy figurines, Miles van der Rohe prints, Hokusai-esque paintings, and a big open kitchen where mysterious cauldrons bubble and steam.
How does it feel? It feels happy.
You can get pretty much anything here. Important Hakusan porcelain? CIBI's homebrand chilli miso paste? Birkenstock sandles? Sori Yanagi kettles? A whole wall of tenugui hand towels? You got it.
Of course there's also the famed CIBI kitchen, still rocking one of the best Japanese breakfasts in Melbourne. It's packed today too. Half of Collingwood is here, tucking into nourishing lunch plates, soba noodles with fried bean curd, or fluffy scrambled eggs with homemade sausages.
Most of the old CIBI classics have survived on the new menu, including our personal favourite: the Japanese curry with chickpeas and veggies. The crew make almost everything in-house, including their own vinegars and miso pastes. If you want to replicate the dishes at home, owners Meg and Zenta have released a Cibi cookbook (available for purchase, of course).
Looking around, you realise how special this place really is. There's nothing else like it in Melbourne. No highfalutin concept cafe comes close. No fake-mod industrial warehouse. No cosy northside bistro. Cibi is its own beast—the house may have changed, but it still feels like home.
Image credit: Mel Desa
---