Concrete Boots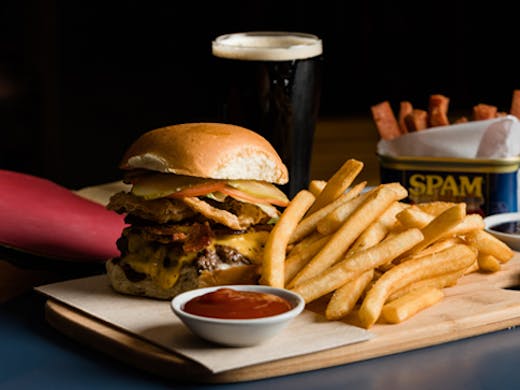 The Verdict
We're gonna call it. Richmond's new Concrete Boots is the only place in Melbourne serving up deep-fried Spam Chips.
Proudly sporting its past "battle scars"—literal bullet holes in the walls and on the door, Concrete Boots is owner Andrew Reed's total reinvention of Richmond's Burnley Street, with a food and drinks menu to match. The 'concrete boots' are a reference to the ol' Squizzy Taylor gangster era, when unfortunate souls would take a one-way swim in the Yarra. Hence the bar's logo: a skeletal hand, reaching out for a cold frothy.
So what exactly are Spam chips, you ask? Literally Spam, cut into chips, fried and served up with spicy dipping sauce. You may as well keep the eyebrows raised, because Concrete Boots are also dishing up avocado tartare and jalapeno poppers for the vegan crowd. It's screwy, off-beat stuff, but there's burgers on the menu if you're not feeling too adventurous.
Take your pick: Glenrowan kangaroo burgers slathered in bush chutney, the appropriately named Meadowlands for the vegos, or the Squizzy Burger, stuffed with beef and bacon, cheese, onion rings, lettuce, tomato, pickles, and topped off with some aioli and lashing of gangster BBQ sauce.
Rib-sticking grub is only half the story at concrete. They're also serving up an excellent range of craft beer and cocktails...with a few cheeky twists thrown in. Try the Australian Negroni, swizzled with four pillars gin, maidenii vermouth, and red okar amarao. And if you want a little something, something to go with your avo tartare, try the Love Lycee for a solid kick of house infused basil gin, lychee, and rosewater.
On tap there's all your favourites, from Moon Dog IPA and Merchant porter to Young Henry's lager. Perfect burger booze.
Image Credit: Concrete Boots
---