Connie's
CONTACT
Ph: (03) 9041 0856
Visit Website
234B Russell Street
Melbourne, VIC 3000
Show on map
---
The Details
Cuisine
Need to Know
Good for Groups
Great for Dates
Love the View
Outdoor Seating
Serving
In the mood for
---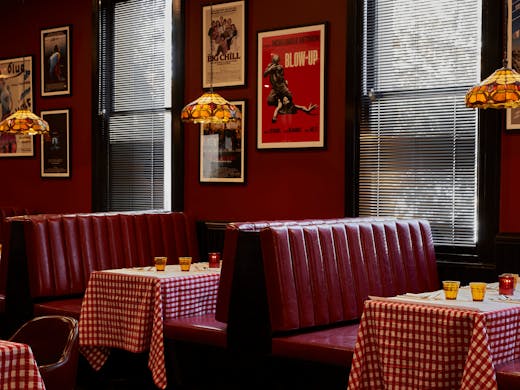 The Verdict
Straight out of the swinging light, rock n roll halls of Heartbreaker, in-house pizza bar, Connie's, has made it big time, securing a trattoria-style diner for its mega slices and Italia-styled dining just up the stairs from the bar.
The all-new restaurant and rooftop Terrazza is headed up by hospitality veteran duo, Michael and Zara Madrusan (Bar Margaux, The Everleigh, Heartbreaker). The inspiration behind the new venture comes from Michael's Grandmother, Connie, who was instrumental in developing Michael's love for food and Italian cuisine, the menu features several nods to his formative years which have come to life with head chef, Matteo D'Elia, who's graced several Michelin-starred kitchens.

"The Connie's concept is grounded in a love of traditional home cooking and a feel-good, warm and welcoming atmosphere…I love that we can give Connie's its own space and brand finally, and showcase something super close to my heart," says Micheal. There'll be the old Connie's favourites including Grandma-style pizzas as well as a couple new additions including smokey roasted peppers and sausage barbecued on the rooftop, a Sunday ragu served across the weekend, as well as a staple lobster linguine and a Tiramisu-inspired sundae.
Inside the 100-seat diner, vinyl booths are decorated in red and white check tablecloths, stain-glassed lampshades hover over every table. The walls are littered with yesteryear film posters, whilst overhead lights bounce off rows of a signed black and white print of 70s Jack Nicholson. The rooftop Terrazza section of Connie's provides plenty of CBD vistas with vantage points throughout and space to capture some sun with bench seating spread between hanging lights, and a selection of plants.
Michael and Zara's reputation around the bar is almost second to none, so you can expect a seriously curated list of drinks, with wines from regions across Italy, as well as cocktails, aperitifs and more. Connie's is set to open later in April, keep an eye for all updates over here.
Image credit: supplied (Connie's)
---