CORE+ | Richmond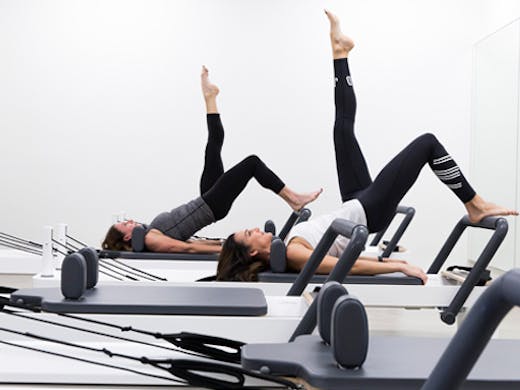 The Verdict
If there's one studio in Melbourne that'll help you get ripped abs, it's this place. They've got 'Core' in the name FFS.
CORE+ have a few studios around town (including two new ones that have just popped up in Preston and Port Melbourne). Richmond is one of their more popular studios—not surprising in a suburb where industrial, backstreet gyms nearly outnumber people. This one is right in the heart of the Bridge Rd shopping strip (if you need a post-workout coffee, head down to Horse To Water).
CORE+ is all about the little voice inside that says, 'You can't do this. Just eat cake instead.' They focus on a mix of pilates, yoga and functional movement to get you thinking about exercise in a more positive way. It's not necessarily about getting buff and checking yourself out in the bathroom mirror (although we'll admit to the odd glance). It's about small gains, self-improvement, taking the pretentiousness out of fitness. Oh, and the occasional crunch. There will be crunches.
Amy King started the CORE+ movement after completing hot yoga training in the States back in 2007. And there are several mat classes you can try, including Hot Pilates, Guns, Bums + Tums (we feel like we need all three...) and a Warrior class that fuses Power Yoga with Pilates to lengthen and tone muscles.
There's also a full range of athletic reformer pilates classes, if strapping yourself into a machine is your way of having a good time.
Now, prices. You can get three weeks of unlimited mat classes for $30, and 6 reformer classes for $60, which is bloody good value. Or there's weekly, monthly or class pass packages if you'd rather go that way. It all depends on your budget, and how much time you reckon you can spare each week.
We say bring on the six-pack.
Image credit: CORE+
---