Cork & Chroma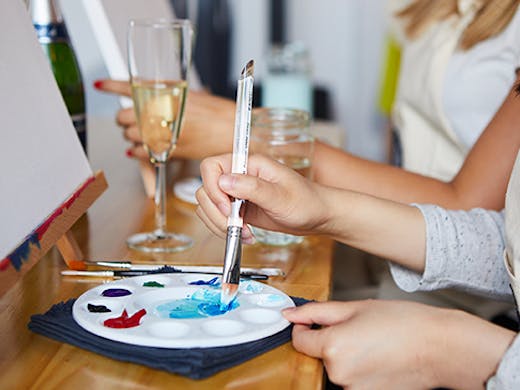 The Verdict
The Cork & Chroma paint and sip studio has opened in Melbourne, following four years of crazy success at their flagship studios in Sydney and Brisbane (obviously, they saved the best until last).
We're pretty glad they've come to town, and trust us, you should be too. These guys run guided painting sessions, where you are encouraged to bring all of your mates and a bottle of wine (it's BYO, hell yes) to sip as you paint. In other words, it's pure genius.
This awesome why-didn't-we-think-of-it idea is the brainchild of Chicago-born Hillary Wall who spotted a hole in the market for a fun (super-fun if you ask us) way for people to socialise, share a drink (we're good at that) and do something creative (we can learn).
Equipped with a glass of wine in one hand and paintbrush in the other, you'll learn the basic techniques of painting with acrylics on canvas, and you'll get to take your masterpiece home afterwards. We know you just can't wait to hang yours up in your living room, so you can smugly tell every visitor "oh this? Yeah I just painted that myself, no biggie" (or is that just us?).
If you don't consider yourself the creative painter-type, then you're not alone. That'll all change the moment you pop on your paint-splattered apron (looking the part is key), settle in with a glass of vino and accept the fact that you'll probably make three thousand 'mistakes' throughout the session. As far as they're concerned, there's no such thing as a mistake, which is why all levels of talent (even the non-existent) are welcome.
Image credit: Michelle Jarni for The Urban List
---