Country Cob Bakery | Boronia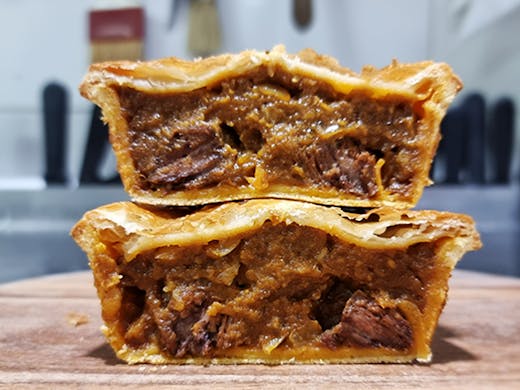 The Verdict
The 'Home To Australia's Best Pies' Motto is hard to argue at Country Cob Bakery, especially when they're raking in gold medals year after year. The outer-Melbourne bakeries have taken out many an accolade at the national pie and sausage awards held around the country and even recently featured on Masterchef sharing their pie-making secrets.
It may be a bit out of town, but Country Cob Bakery in Boronia & Kyneton has an award-winning resume, they've just recently picked up 19 gold medals and 11 silver at the 2022 Australia's Best Pie Comp in Moonee Ponds. The top awards went out for their plain meat pie, their vegan curry cauliflower chickpea lentil and pea, as well as the gourmet pie award for their new Char-Siu pork and apple number.
Both bakeries are around 45 minutes outside of Melbourne's CBD, run by brothers Ryan and Chan Khun. The menu is stacked with a selection of pies that extends beyond the reliable favourites of steak and onion to the more inventive combinations such as their signature lobster and garlic prawn pies. Their vegetarian-friendly Mushroom pie has also earned its fair share of accolades taking out the Best Mushroom pie award with a mixture of Swiss Brown and Portobello in a rich slow-cooked ragu. A little road trip that well and truly pays off.
Image credit: supplied (Country Cob Bakery)
---