Cristal Hair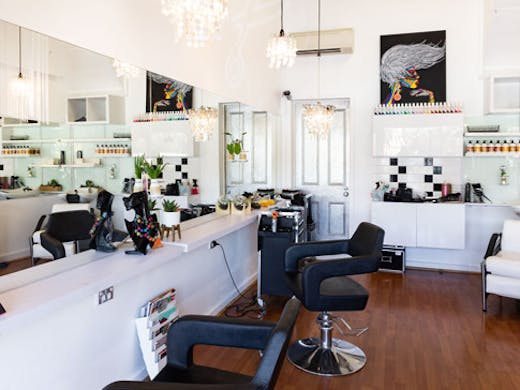 The Verdict
A tall lady with pink lips and a red headscarf greets her customers at the door with her dog Zeus, dressed in a red and blue checkered coat (just one of the many from his wardrobe). Marlene Cupido has been running Cristal Hair for 7 years and has established a successful salon where she mixes business with friendship.
Over the years, Marlene has won over many locals in the area to come in and get their hair done as well as sharing a glass of wine and having a chat. For her regulars, she offers complimentary stylist sessions on the last Sunday of every month where customers can learn how to do hair treatments over some nibbles and bubbly. Marlene loves that everyone that comes in through her salon door has a story to tell and they slowly feel comfortable opening up and creating a friendship.
The salon is small with clean white walls and wooden timber floors and miniature chandeliers hang from the roof. Cactus plants are positioned around the room as well as colourful beaded necklaces that are fixed to the walls. Marlene uses her creativity as a form of art therapy when she is feeling unwell and sells the jewellery to hospitals to pay for medical supplies. Her side business is fittingly called 'Lost My Marbles' and is aimed at supporting those with mental health issues. Kids are encouraged to make necklaces when they come in to get their hair done to distract them from that horrible school cut Mum is making them get.
The salon is dedicated to hair however Marlene encourages customers to paint their nails while receiving their treatment with her extensive selection collected over the years. Makeup artistry can also be pre-arranged. So why not give Cristal Hair a try when you are next after a blow wave, it is open till as late as 10:30 pm, there is guaranteed cute canine company and who knows… you might even become a wine and nibbles regular.
Image credit: Mel Desa
---