Crown Metropol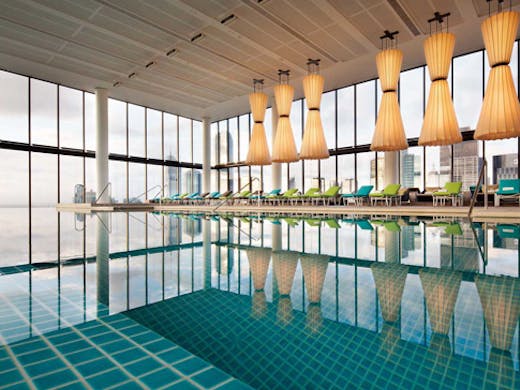 The Verdict
Ahhh, so THIS is how the other half live. Those swish, globe-trotting businessmen and women who use words like 'dividend' and spent domestic flights making calls to their broker in Helsinki. We noticed half a dozen in the lobby of Crown's elegant Southbank hotel, Metropol.
It's probably fair to call Metropol Crown's business hotel. If you're a high-flyer jetting into town for a few weeks, this is more than likely your Melbourne address. But don't let slightly corporate feel put you off a cheeky minibreak—Metropol is Luxe with a capital L.
We were lucky enough to snag one of the Loft Suites, and hooly dooly, they are ridiculous. You half expect Harvey Specter to be sipping espresso by the window in a tuxedo. Corner wrap-around windows (with electric blinds you can open and close via remote), a King Size bed that could fit a small rugby team, tasteful furnishings and the greatest bathroom of all time.
The bathtub in the Loft Suites at Crown Metropol is like what I imagine Roman bathhouses must have been like. For one thing it's got a TV in there, so you can watch the footy. The tub itself is probably about the size of four normal human baths combined. The water doesn't come from a tap, but from some metal waterfall arrangement. And the whole thing is open to the bedroom and the view beyond, so you feel like you're in some quasi-penthouse, drink-martini-while-plotting-corporate-takeover situation.
If you have the means, we highly recommend picking one up.
The rest of the hotel is beautifully appointed. Electric Do Not Disturb signs on every door. A top-floor pool with INSANE 30ft windows looking out over the CBD. And the brekky at the 28 Skybar Lounge is (we can confirm) filling. You might want to unbutton for this one.
You should consider Crown Metropol if you enjoy things like power, money, views, romance and food. Last tip: try the pizzas from room service. Eating a large pepperoni in a white dressing gown while watching the sun set over Melbourne makes you feel like you own the universe.
Image credit: Crown Hotels
---