The Crux & Co Patisserie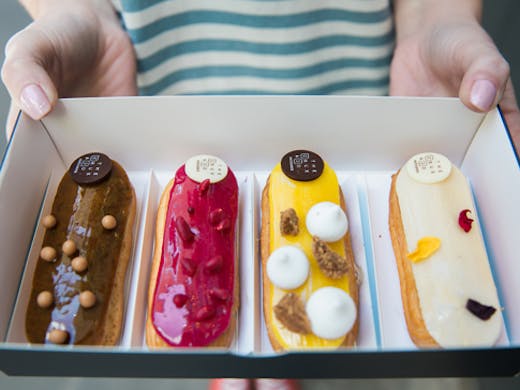 The Verdict
The Crux & Co was made famous on the local food scene by its game-changing 'crogel' – a croissant/bagel hybrid that has been filling plates and Instagrams Melbourne-wide since it first opened its doors in June of 2016. The instant success of this innovative treat, along with the rest of the café's delicious, photo-worthy eats, is great news for hungry Melburnians who are now being treated to a second store; The Crux & Co Patisserie.
Located along the CBD's Little Collins Street, the newly transformed former larder has a focus on coffee and sweet treats that include a drool-worthy cabinet full of Hong Kong-style lacquered eclairs in flavours such as salted caramel, lemon meringue and bitter chocolate.
But rest assured sugarphobes, visitors can also be treated to iconic savoury options such as hot pies and sausage rolls, as well as the MVP; the crogel, which is also available with salmon and cream cheese or chicken and avocado fillings.
Like its sister café, The Crux & Co's new patisserie has already proved to be a major crowd pleaser and a perfect brunch/lunch/dessert/anything option for inner-city foodies.
Image Credit: Jenna Fahey-White
---
You May Also Like