Cucinetta
CONTACT
Ph: 03 9942 2607
Visit Website
4/3 Murphy Street
South Yarra, 3141 VIC
Show on map
open
---
Opening Hours
| | |
| --- | --- |
| SUN | 12:00pm - 10:00pm |
| | 6:00pm - late |
| MON | 12:00pm - 10:00pm |
| | 6:00pm - late |
| TUE | 12:00pm - 10:00pm |
| | 6:00pm - late |
| WED | 12:00pm - 10:00pm |
| | 6:00pm - late |
| THU | 12:00pm - 10:00pm |
| | 6:00pm - late |
| FRI | 12:00pm - 10:00pm |
| | 6:00pm - late |
| SAT | 12:00pm - 10:00pm |
| | 6:00pm - late |
---
The Details
Cuisine
Need to Know
Child Friendly
Great for Dates
Serving
Lunch
Dinner
Dessert
Take Away
---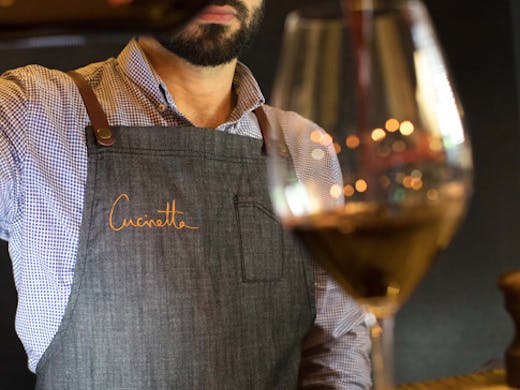 The Verdict
If there's any Year 10 Italian left in your brain, you'll know that 'cucinetta' translates roughly as 'little kitchen', a moniker here that feels entirely appropriate. This place isn't much bigger than the average King-sized mattress. In a lot of ways it feels more like a randomly generated dinner party than a restaurant—albeit one with Nonna-quality food.
Ben Dinning built this place into a bit of a local institution over the last three years, and now he's handing over the reigns to the Caffe e Cucina team from just down the road. Omar El Deek and Giacomo Piertrantuono took over the place a couple of months ago, but they're determined not to mess with a (clearly) winning formula.
Cucinetta is famous for a few things, but most people come here for the quality of the food and the cosiness of the atmosphere. This is Italian the way Nonna used to make it: fresh, simple and cooked with love. There's a very compact rotating menu of four main dishes, plus a few Dolce sweets (think apricot crostata or crema pasticcera with savoiardo ladyfingers). There's no freezer or cool room on site, so anything leftover from today's dinner will be gone tomorrow. It's an old-school approach that feels surprisingly modern: waste is minimal and every dish is considered with care.
The wine list is compact and punchy, mostly full of big-hearted Italian reds. They go great with hearty mains like al dente, silky pappardelle with tender beef cheek ragù or whole baby snapper served with a side of herb-crusted potatoes. If you've dined at Caffe e Cucina, you'll know that Cucinetta is in safe hands. Both venues are built around the same basic ingredients: tomatoes, garlic, expressive hand movements and flickering date night ambience. Belissimo.
Image credit: Cucinetta
---