Cuppa Turca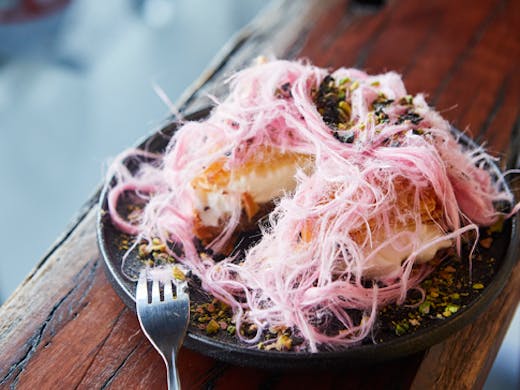 The Verdict
Take your usual vanilla scoop in a cone and toss it out the window, because at Northcote's Cuppa Turca, you're in for a whole new ice-cream experience.
Dondurma is a Turkish ice-cream: super stretchy, chewy, and not so easy to melt. And at Cuppa Turca, Dondurma is also a treat for the eyes, as you get to watch your vendor stretch and flip the ice-cream before serving it up in a cone or sandwiched between two wafer slices or some homemade baklava.
Dondurma is a traditional Turkish delight (although Turca also offers actual Turkish Delights at $3 a pop). In fact it's so traditional the ingredients rarely cross the Turkish border. So the Dondurma at Cuppa Turca is the product of many sweet test-runs by owner, Harun Yalcin. After spending six months on the process, Yalcin has developed his own super-secret recipe, replicating the original back home. Freshly made in-house every day, the Turkish ice-cream comes in flavours stretching from rose and molasses to pistachio and halva.
Künefe also stars on Cuppa Turca's menu. It's a cheese pastry you can enjoy with some Turkish coffee brewed on hot sand – like actually, it sort of works like an adjustable double boiler.

The attention may be on the ice-cream, but at Cuppa Turca you can also treat yourself to a Tahini scroll (similar to an almond pastry) while kicking back on a fluffy cushioned seat. The fit-out is all mosaic-patterned walls and timber detailing, lit warm by brass Turkish pendant lights.

Doors open weekdays from 10am, and 11am on weekends. Sweet tooths, add it to your ever-growing Melbourne list.
Image credit: Michelle Jarni
---