Damon Bradley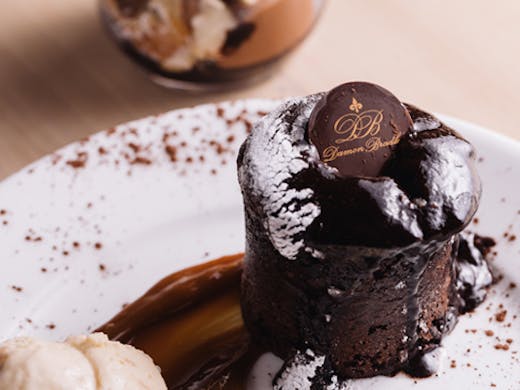 The Verdict
Sundaes and sweets and wine, oh my! Damon Bradley - the brand new late night dessert offering in Southgate - is exactly what we've been looking for in Melbourne. I mean, how many times have you finished a movie, play or musical and thought to yourself: I'd really love a glass of wine and a red velvet layer cake with double cream, chocolate fudge and strawberries right now? Yeah, us too.
The aforementioned 'Velvety Red' was luscious goodness, as was the gooey chocolate fondant with salted caramel ice cream and salted caramel sauce - but do you know what was even better? The fact that every single dessert comes paired with a perfectly selected wine. Seriously though, they read our minds. Why think, when you can (chocolate fondant) and drink?
Our plan is to go back for the sticky date, banana and pecan pudding paired with a Noble Riesling, or the hot cherry belgian waffle drizzled with fudge and golden syrup, paired with a Moscato Rose Gold. Or the donut tasting plate with dipping chocolate AND butterscotch sauce. Or a boozy classic high tea. Or all of them at once.
After all, since when did we get spoiled with this many amazing dessert options, paired with wine, and open 'til late' on a Saturday night? And in the city, no less. Something tells me I'll see you there... very soon.
Find out about Damon Bradley and more epic Southgate venues here.
Image credit: Provided
---