Dandenong Pavilion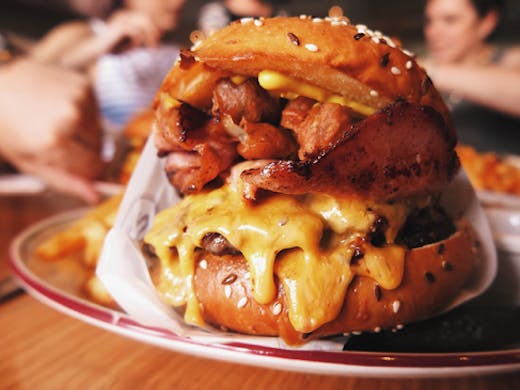 The Verdict
It's hard to know where Melbourne's modern-day burger obsession started, but if you follow the brioche breadcrumbs back in time, chances are good you'll end up here. At the Dandenong Pavilion, one of Melbourne's true OG burger joints.
Most inner city dwellers have never heard of Dpav, as it's known, which is a real shame. It was created in 2006 by the guys behind Grand Trailer Park Taverna and Royal Stacks, way back in the days when a good burger was the thing you ordered from your local fish and chippery. And if you look closely at both those venues, you'll spot the Pavilion's fingerprints everywhere.
Dpav is a fully functional cafe, and of course you can swing by for homemade granola, Lebanese breakfast (killer labneh, just FYI) or a Croque Monsieur with smoked salmon, cream cheese and dill. But really, if you come here and don't try a burger, you're doing it wrong.
A glance at the menu reveals a solitary beef burger, which would be weird, UNLESS you knew about Dpav's not-so-secret burger menu (you're welcome). This thing isn't printed down anywhere. You have to ask the staff. There's an ever-changing array of burgers on offer (some, like the rankONE and the Zeinheiger, created by famous Melbourne burger bloggers). What they all have in common is a love of the ridiculous. Don't be surprised if the waiter brings out a stack featuring, in no particular order: two gnarly beef patties, bacon, American cheese, potato gems, a mac n' cheese croquette, cheese sauce, mustard and ketchup. Yep, really.
Dpav pros will know to save some room for dessert. The place's waffle stack has become an eastern 'burbs legend: three feather-light waffles, layered with vanilla bean custard, chocolate fudge sauce and Chantilly cream, with mixed berries on top.
Call yourself a Melbourne burger aficionado? You can't claim the title till you've tried the Dandenong Pavilion.
Image credit: Dandenong Pavilion
---