Dari Korean Cafe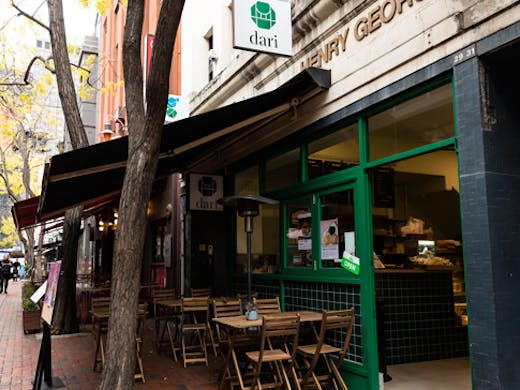 The Verdict
Prepare yourselves, Dari Korean Cafe is bringing Korean Street Food right to your plates and this one's a game-changer. Found along Hardware Lane in Melbourne's CBD, Dari Korean Cafe is the fresh new flavour that everyone is talking about, and we're not surprised as to why. Owner, Yoon Ji Park, has a desire to share a little taste of her home, South Korea, with Melbourne, hence the use of Dari in the name meaning 'bridge' in Korean.
A sandwich store by day, a Korean tapas and cocktail bar by night, this cafe is quickly becoming known for all the right reasons. Their daytime menu serves up all the classic favourites, with a twist of Korean culture. Try their 'Idol Sandwich', a three-layer, Mexican salad, jam and potato salad sandwich. Finish it off with a Korean sweet treat that cannot be found anywhere else in Melbourne, and you'll walk out of here feeling more than satisfied.
Turning to their night-time scene, and you won't be disappointed here. It's incredibly hard to go past their savoury pancakes, usually only made in Korea for special occasions but brought to you every night in the heart of Melbourne. Top these pancakes with a choice between the calamari, mushroom or seafood - you'll be ordering these guys in bulk. A fan favourite already is their thinly-sliced pork and rice with a spring onion salad, you'll have to give this one a shot yourself.
Finally, what's a café/bar without drinks? Unique, Korean fusion isn't just found in the food, but also in the drinks here. Authentic Korean beverages are being served left, right and centre, such as their Sik-hye, featuring malted barley and rice. They also have other, non-alcoholic drinks if you're not in the mood for something strong, such as their sweet potato and pumpkin latte.
An unfamiliar yet homely atmosphere, you'll be treated to a unique experience at Dari Korean Cafe. You can either dine-in or get takeaway, whatever you're in the mood for. With a range of affordable sandwiches, delicious drinks and an even better culture you can't find anywhere else in Melbourne, make sure to visit this cafe as soon as possible.
Image credit: Supplied
---
You May Also Like