Dario & Co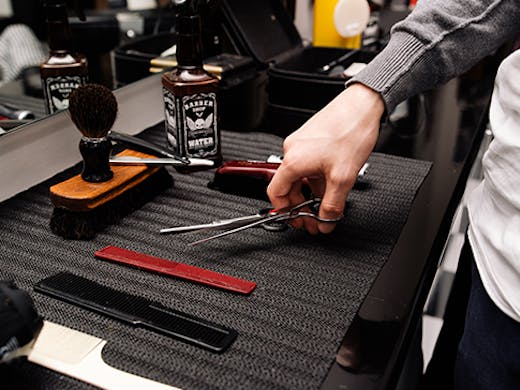 The Verdict
Never trust a barber with bad hair. Everyone knows that. Well you'll be happy to know Dario Krejic looks super trustworthy: this guy has the sort of chiselled chocolate hair you see on shampoo commercials.
His barbershop in Pakenham, Dario & Co, is one of the best places in Melbourne for a straight shave or a slick fade cut. You'll find it inside Pakenham Central Marketplace—just keep an eye out for the black and white checkerboard floor.
Dario & Co is the best of both worlds. The barbers here are definitely cool (tattoos and fade cuts are pretty much the uniform), but they're friendly too. And great with kids—we saw a few young boys coming in with their parents, and there wasn't a single temper tantrum. The chairs are old-school barber style, black leather, height adjustable, the sort Elvis would have used in the 50s. Maybe that explains the black and white Elvis prints on the walls.
There's no appointment needed at Dario & Co—they do take walk-ins. And the prices are very reasonable for what you're getting. Guys, you can sign up for a lather and a straight razor shave, or maybe a beard trim and conditioning (Dario uses Proraso beard oils to keep your chin blanket smooth and supple).
The atmosphere in here is definitely skewed towards the 'manly' end of the spectrum (we spotted a cheeky bottle of Johnny Walker Black Label), but anyone's welcome. The team are just naturally lovely—easy to talk to, no fuss, with decades of experience between them.
If you're out Pakenham way and you need a trim, hit up Dario & Co. You can thank us when you walk out looking like Brad Pitt circa Fight Club.
Image credit: Jess Prince
---