Daughter In Law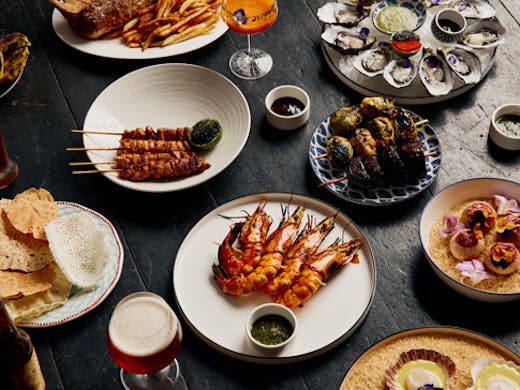 The Verdict
The perfect place to visit when you're craving a home-cooked, made-with-love Indian dish, Daughter In Law is the new restaurant on the block that is fast becoming a Melbourne favourite. Located on Little Bourke Street, this unauthentic Australian-Indian bar and grill is founded and owned by internationally acclaimed chef Jessi Singh (Babu Ji NYC).
Daughter In Law's extensive food menu is something you'll be left dreaming about. They have a whole range of meals for whatever you're craving, whether it's a light bar snack like scallop ceviches or beef tartare, or indulge in a meal for yourself with their coconut seafood curry or some pork neck vindaloo. If you want something simple, try one of their naan pizzas, because they are out of this world. They also have an express lunch available between Monday to Friday's for only $15, so you can be in and out if you're in a rush.
Now let's talk drinks. From mocktails to cocktails, both are filled with bright colours and unique ingredients (like beetroot juice) that'll go down like a treat. They also have beers, don't worry. Their happy hour runs between 4 pm until 6 pm, and they also have a self-serve bar, so good luck trying to leave here.
Inside, you'll feel as though you have stepped foot into a Bollywood movie, and this is not just because of the Bollywood films projected onto the walls or the 70s Bollywood tunes that are playing in the background. With colours inspired by Indian culture, you'll be able to sit back and relax in one of their velvet, ocean blue booths or their light pink bar lounge. With this 95-seater venue, you'll be able to find a comfortable place somewhere.
Daughter In Law is a unique experience that has the right amount of funk mixed with comfort. An experience like no other, you'll be treated to a night filled with delicious food, even better drinks and some great Bollywood tunes. Only available for walk-in lunches between Monday and Friday and open for dinner seven days a week, this hotspot will quickly become one of your favourite go-to's.
Image credit: Griffin Simm
---