Daylesford Grazing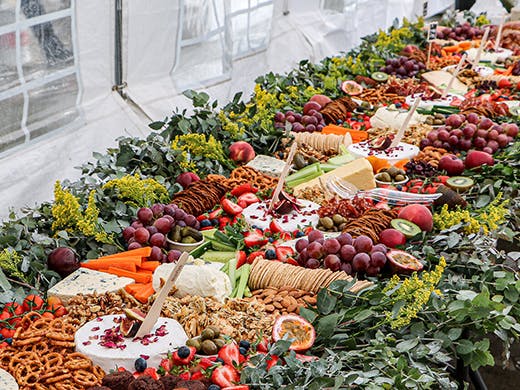 The Verdict
If there's one thing we'll never tire of, it's a grazing table. In fact, we're expecting each spread to out-do the last; that's essentially what Instagram was made for, right? Lucky for us, the good folk at Daylesford Grazing don't mess around when it comes to delivering decadent platters and desserts.
Their ethos is to source as much local produce as possible, with meats, cheeses, fresh fruit and florals from some of Victoria's best. Most Melburnians can get grazing boxes, platters and tables delivered right to their doors, boasting drool-worthy items like Oakwood Wagyu beef brisket and cheese towers stacked with double cream organic brie, cave aged cheddar and English Blue Stilton.
Each detail is meticulously considered, with even their (optional) serving plates and napkins being compostable, so you can indulge without the guilt of putting too much of a dent in the planet. Whether you've got heaps of mates and need a 10-metre table filled with cheese, or just want to impress your beau with one of their grazing boxes, they've got you covered. Coeliacs, vegetarians and vegans rejoice because there are some excellent options for you too.
Image credit: supplied
---