Deeds Taproom And Kitchen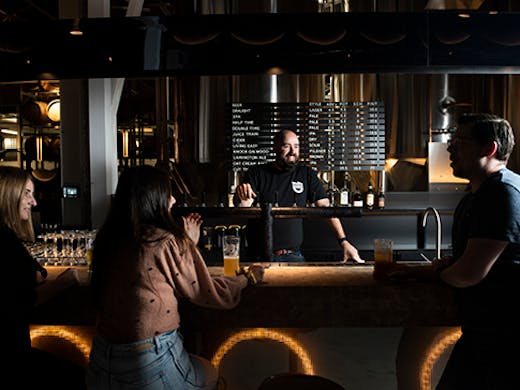 The Verdict
Glen Iris, one of the driest spots in Melbourne, is now home to multi-award-winning microbrewery Deeds Brewing. While the taproom may be brand-spanking-new, this project has been in the works since 2003, when engineering students Pat Alé and Dave Milstein came together with their hops-fueled dream. After a shaky start, this duo transformed an old car factory into their base in 2015 and spent the next six years fighting to establish a beer oasis in this south-eastern alcoholic dry province.
Leaning into the building's stunning red-brick exterior that dates back to the 1890s, this industrial-chic brewery is now stocked with towering fermenting tanks and a 150-seat capacity venue. Instead of covering up this building's working parts, Deeds chose to include its brewing equipment in the design, so you can see a bit of the magic happening while you sip on the end result.
As seen through the architecture, this establishment is a celebration of all things beer, from the 20 meter-long bar to the 22 on-tap beers showcasing the best this brewery has to offer. If you're a real beer-head, try seasonal limited-edition brews which are usually tap-room only offers. These include aged pilsners, which have been barreled for up to three months, and a range of experimental lamington beers, fueled by Deeds' quest to create a dessert in a glass. They also offer their range of award-winning hazy pale ales and fruity IPAs on tap year-round.
Speaking of desserts (and beer), Deeds have partnered with Head Chef Paul Kasten, formerly from Stomping Ground Brewery and Host, to create a menu that utilises the tastes and ingredients from beer in exciting and innovative ways. Highlights include a barley risotto, and for the sweet tooths out there, malt whipped cheesecake encased in flakey caramelised pastry.
Deed's Taproom and Kitchen opens on the Saturday 26 of June, and will remain open every day of the week to quench the thirst of anyone after a top-notch brew. Walking distance from a station and with a tram stop at their doorstep, there's plenty of ways to make your way to Glen Iris's new favourite resident.
Image credit: supplied
---