Denmark House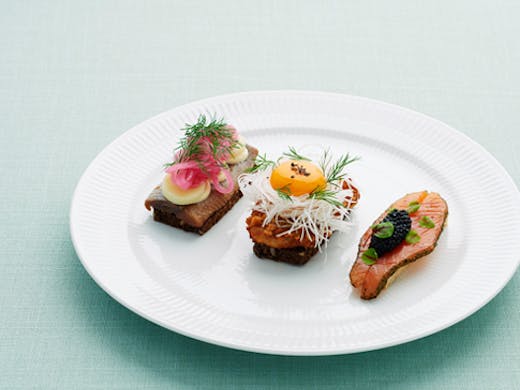 The Verdict
You've probably walked straight past Denmark House dozens of times. It's hidden on the third floor of a nondescript brick building on Little Bourke St: a little temple to Danish minimalism, floating high above the city.
Denmark House is a long-running Danish members club (the club president is actually the Danish goodwill ambassador to Melbourne), but not many people realise it's also open to the public. Anyone can ascend the lifts to Level 3 and experience the very best of traditional Nordic cuisine, not to mention a dash of hygge and some kickass Danish design.
The space resembles the vaulted buildings in Copenhagen's Nyhavn harbour. All big timber beams, white walls and frosted glass depicting the city's trademark architectural style. There's a cosy little bar up front, stocked with enough Akvavit to keep a Viking horde happy for months (Akvavit is a Scandi spirit, distilled from potatoes and spiked with caraway seeds. Try the Rød Aalborg or Aalborg Jubilæum if you're a beginner). You'll also find Danish beer on tap—get ready for crisp pilsners from Carlsberg and Turborg—plus a range of Nordic-inspired cocktails.
Executive chef Bente Grysbaek is running the restaurant pass, dishing up traditional Danish open sandwiches for lunch from 12pm – 3pm, Monday to Friday. Now the term 'open sandwich' is a little misleading. These things are made from traditional Danish smørrebrød, a heavy rye bread that's been a staple in Denmark for about the last 2000 years.
Grysbaek has chef'd the hell out of them, adding A-grade toppings like blushing gravlax with shaved white radish and horseradish cream, or delicate herring slathered in dill and onions. They arrive on the table like tiny works of art, almost too pretty to eat.
And for dessert? Danishes of course! The softest, flakiest you'll ever eat, served warm out of the oven and swirled with fragrant cinnamon. There's also cloud-light flødeboller (piped marshmallow towers, coated in couverture dark choc) and dense marzipan Kransekage cakes (a traditional New Year's snack in Denmark).
If you're a fan of Scandi Noir, Lego, Danish furniture and the Crown Princess Mary (and let's face it, who isn't) you've gotta try this place. A secret slice of hygge, hidden in the CBD.
Image credit: Denmark House
---