Dinner By Heston Blumenthal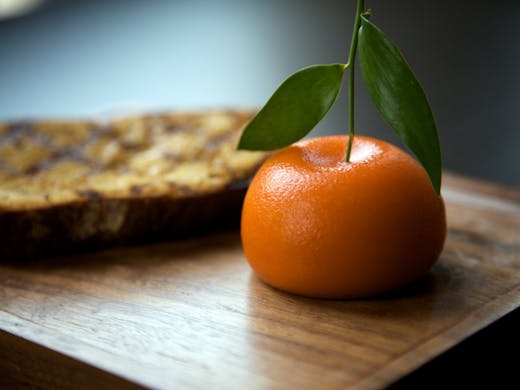 The Verdict
Missed out on the Fat Duck pop up, and need a little Heston in your life? Dinner By Heston Blumenthal is everything you could hope for from a Heston restaurant—but it's not quite what you are expecting.
Sure, upon arrival you'll almost send back the Bloody Mary as you sit in the plush bar overlooking the river, thinking they've delivered the wrong order when it arrives (but I won't spoil the surprise by telling you why here).
And then there's the famous meat fruit: a mandarin gel-covered, and very real-life looking, orange fruit, seated on a simple wooden board and accompanied by bread. Slice it open, and you'll find the creamiest chicken liver parfait you've ever tasted.
However, unlike the Fat Duck, Dinner By Heston Blumenthal isn't all about the tricks, and there's very little 'drama' dining here. Think of it more as a two-Michelin starred offering on the banks of our fair shores, with all the trimmings: impeccable service, stunning and innovative food, and one of the best damn wine lists you've seen in a while. It's time to trust your sommelier here: she knows what's up.
Sure, there's that trademark sense of Heston whimsy—an Alice In Wonderland style clock ticks away in the corner, as spinning pineapples roast away in the open kitchen—and when you peruse the menu you'll see the wink emerge from the pages as if Heston himself were there beside you.
It kind of feels like he is... but at Dinner, he's all grown up.
Photo credit: Provided
---