D'Lish Fish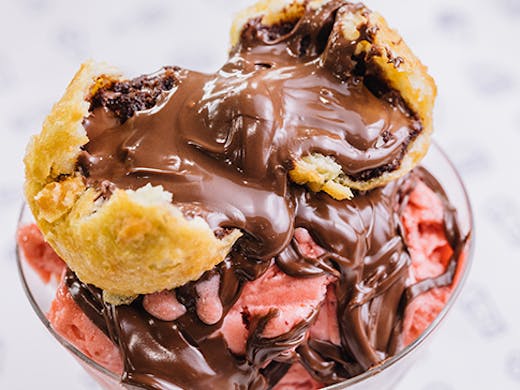 The Verdict
The team that brought you deep-fried Nutella balls has officially levelled-up in diabetes. Hailing from the sandy beachside area of Port Melbourne, D'Lish Fish is introducing their new menu item: The Deep Fried Nutella Ball Sundae, served with thick layers of Nutella and topped with deep-fried Nutella balls. You'd better start praying away these calories.
Served with crushed nuts, your choice of gelato from Brunswick-based Gelati Sky and enough Nutella to keep you on a chocolate-fuelled high for the rest of the day, this is going to be your new Friday night treat. Gelato is for every season, right?
If you've completely abandoned any sense of decorum (and any attempt at an adult diet), D'Lish Fish is also quietly dishing out some of the most authentic, drool-worthy burgers and gluten-free friendly dishes in Melbourne. Never say an old chippery can't learn new tricks.
Our go-to is the Double Beef and Bacon, complete with a totally necessary double beef patty, double bacon, triple cheese (they've #nailed it), lettuce, tomato and mayo. The Aussie burger with beef, egg, bacon, cheese, tomato, onion, lettuce, beetroot and ketchup is also sinfully oozy and finger-licking rich.
Gluten-free foodies will leap at D'Lish Fish's gluten-free dim sims and potato cakes, along with fish fried in gluten-free batter. Mix 'n match from a local range of blue grenadier, flake, barra or Atlantic salmon.
To save you the heartbreak of choosing just one item off the menu, we recommend feasting with friends. D'Lish Fish's interior, designed by Richmond-based Hecker Guthrie is a polished, modern space. Communal, share-style tables and a beach-coloured bar creates the buzzy, warm atmosphere.
Whether you eat your food haul by the water or (let's be honest) in the seagull-free sanctuary of your car, D'Lish Fish is guaranteed to satisfy. Don't forget the kilo of chips for under a tenner too. Because hot chips.
Image credit: Griffin Simm for The Urban List.
---