Dolly Gray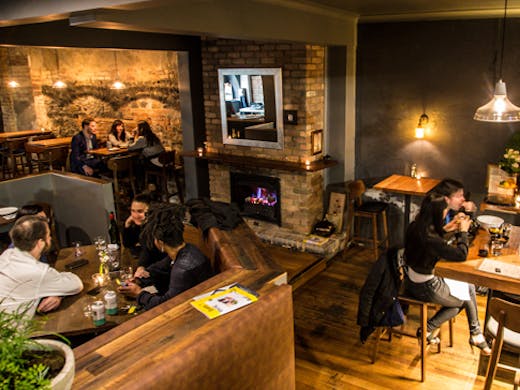 The Verdict
If you're a bit behind on your Underbelly binging, you might not know the name Dolly Gray. She was the first wife of infamous 1920s Melbourne gangster Squizzy Taylor—a brothel owner, gun runner, and (now) the namesake for Fitzroy's newest cocktail bar.
Dolly Gray is a dark and smoky slapper bar up the top end of Brunswick St. A brooding den of brushed concrete and exposed brick, jackhammered from the foundations, with a subtle Gatsby-esqe spin. The sort of place you'd shoot a noir film about a detective who refers to women as 'sweetheart'.
It's the latest project from a team of experienced hospo pros: chef and co-owner Rhys Blackly ( ex Matteo's, and recently head chef at Circa, The Prince Hotel) and Captain Baxter alum David van Lersel, who'll be running front of house with Brad Dowling.
Let's start with the cocktails, a whip-smart little list designed by van Lersel and Dowling. Think spiced bourbon sours with fig, cinnamon and bergamot syrup, or The Mare's Neck (Dolly's spin on the 1920s classic 'Horse's Neck'), a smoky mix of cognac, Yuzushu, raisin and ginger. Parochial Aussie wines and beers round out the drinks list—keep an eye out for local labels like Balter, Red Hill and the Allies' Tuerong pinot from down Mornington way.
Back in the kitchen, Blackly works over a custom-built wood BBQ, fuelled with crackling red gum, dishing up whole barbequed Milawa chickens, slow-cooked lamb shoulder, tender steaks and local mussels served with spicy Nduja, lemon and parsley. Sophisticated restaurant grub, with a ballsy, flame-grilled char.
Blackley and the team have plans to open a 20s-style speakeasy upstairs before the end of the year—an "attic garden" called Taylor's Bar. Keep your eyes peeled for that one. In the meantime, better get working on your Charleston, old sport.
Image credit:
---
You May Also Like