Drumplings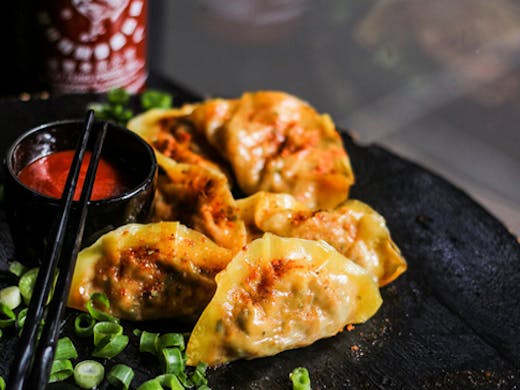 The Verdict
Finding dumplings in the CBD isn't tricky. You just close your eyes and throw a brick. Chances are good you'll hit something delicious, fried and dipped in chilli vinegar.
But good luck finding another dumpling joint like Drumplings. These are dumplings with a Willy Wonka twist. The sort of dumplings you imagine at 2am after one too many pints (we have a sneaking suspicion Drumplings is a portmanteau of 'drunk dumplings'). How else do you explain cheeseburger dumplings? Fish and chip dumplings? Beef rending freaking dumplings?!
Now before you dumpling purists storm the place with pitchforks, be advised there are classic dumps on the menu too. Delicate prawn and chive hargow, a cracking shitake mushroom for the veggos, and the obligatory pork and ginger gyoza skins.
But turn the menu and you'll find a new list...the 'Drumplings'.
This is where you get chilli con carne dumplings (beef and bean ragu, spiked with coriander, lime and hickory salt), cheeseburger dumplings (well seasoned with a tang of mustard and pickles), or chicken laksa dumplings (with actual vermicelli noodles inside).
Need more? Drumplings are pairing these wacky creations with alcoholic icy poles from POPS, and tinnies of Furphy and Tsingtao, bubbly Moscato and sparkling cucumber soda. Pro tip: keep an eye out for the Pikachu cans.
The city needs new venues like this one. People that are willing to push the dumpling envelope. Head in here before the hype really hits. We've got a feeling this place is going to be big...
Image credit: Drumplings
---