Dukes Gym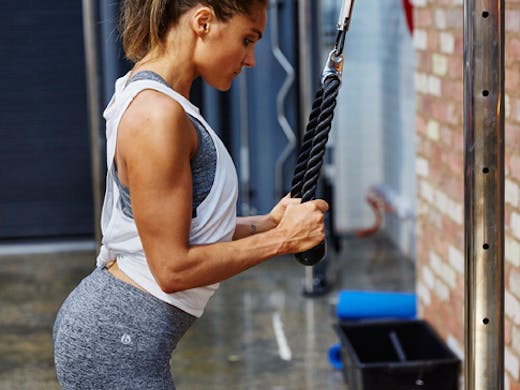 The Verdict
Dukes Gym in Richmond is our latest favourite fitness find, and it ticks all of our 'ideal gym' boxes. It's got a beautiful, high-ceilinged space (tick). It's what we'd consider a 'proper gym', but not in the intimidating, body-builder-type way that swears you off carbs–and gyms–for life (tick). And there's a female-only area, complete with funky tropical wallpaper (tick).
There aren't many gyms around that nail those three things (our love of tropical wallpaper is particularly niche), but Dukes isn't trying to recreate your typical franchise gym. This place is all about helping you get the best from your workout and making you feel comfortable in the space. There are little clues everywhere: The separate female-only area, the quality and quantity of the equipment, the bright and airy space, and a fully equipped ladies bathroom with makeup mirror and hair dryers (perfect for the pre-work workout). There's even a full-time, in-gym nutritionist if you'd like a tailored meal plan to go with your weight session. Well played, Dukes.
As you'd expect from a modern-day gym, the equipment is all state-of-the-art, and it's nice to see Dukes has thought of the little things. Most places we've seen only have a couple of squat racks, but this place has six ready to roll. This is a place you come for a proper workout, not to take selfies in your new lycra. Beginners are welcome, and the PTs will certainly help you get up to speed, but workout regulars will appreciate Dukes professionalism and fully-equipped set-up.
Image credit: Michelle Jarni for The Urban List
---