Dunning Kruger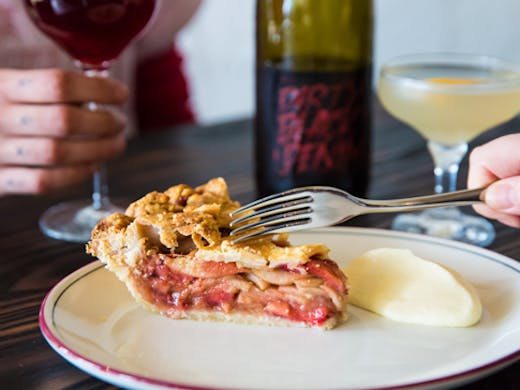 The Verdict
There's a pretty simply concept behind Dunning Kruger: "Victorian beer, Australian wine, small producers and a damn good pie." Sounds like the ingredients for a happy life, really.
First things first—the name. The 'Dunning Kruger Effect' is the term for someone so clueless that they don't even recognize their cluelessness, and may, in fact, reckon they're the sh*t. For Gene Mills, Courtney Tuul and several friends, it was the perfect name for a new bar. Originally there were ten couples involved in the project. Not it's just Gene and Courtney, with friends Jeremy Soawyer and Purdy Jane Rhodes coming on board as partners.
The place's fit-out is spartan, but classy. Beautiful tiles on the ceiling, ropey cables and dangling bulbs, dark timber and white-washed brick walls. A pretty neutral palate. Something relaxed and comfortable, where people can kick back with some top-notch booze and a slice of pie.
Pie? Yes, pie. Tuul trained as a pastry chef at Proud Mary, and even did a stint with Matt Forbes at Cobb Lane, and she bakes at least two large, Yankee-style pies for the bar each day. Think lime and maple custard, old-school apple with lattice pastry, rhubarb and blueberry with a butter crust. The sort of pies that get swiped from cartoon windowsills. Tuul serves them with a generous quenelle of cream.
Mills is in charge of the bar, and has put together a small yet powerful drinks list. At the moment it's Mornington Peninsula Brewery schooners on tap, plus a few bottles of West City Sunshine Ale and Moondog tinnies in the fridge. Keep an eye peeled for the new Wolfburn 128 small-batch whiskey, too.
Dessert bars are becoming a bit of a thing this year. There's something about cocktails and cake that just seems to work. If you're a fan of the Dunning Kruger treatment (and you will be) check out Bad Love Club in Footscray and Armageddon Cake in Geelong.
Image credit: Jenna Fahey-White
---