Sebastian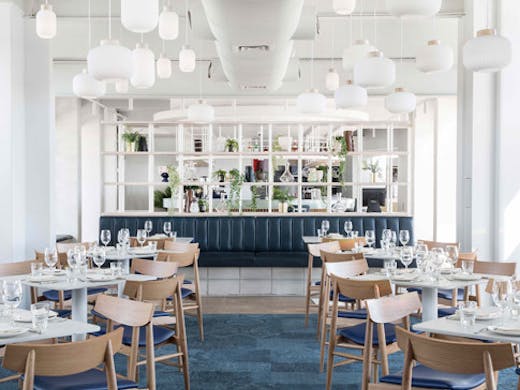 The Verdict
Set on the shores of Williamstown Beach, Sebastian will have you feeling like you're holidaying in the Basque region, which is an impressive feat for a spot in Melbourne's west. With plenty of crisp white walls, navy, tan, and gold accents, you'll think you just stepped into a portal to a trendy San Sebastian hotspot.
Reinvigorating the landmark heritage hospitality building formerly known as Sirens, Sebastian is the new venture from leading restaurateur Dave Parker (San Telmo, Pastuso, Palermo, Asado, Neptune) and childhood friend Alex Brawn.
Offering an all-day menu influenced by Sebastian's namesake Spanish beachside town, Head Chef Leigh Robbins is ready to show you a charcoal-grilling, coal-smoking, meat-curing good time.
We're talking summery small plates like Basque crispy mussels with fermented chilli aioli, homemade spiced pork sausage, or enticing Spanish rice with Cloudy Bay clams, tarragon and bread crumbs. If you're looking for a larger fare, eat your way through the tender smoked chicken, the pasture-fed Victorian lamb rump or the whole market fish served with burnt anchovy butter and crispy butter beans.
There are plenty of set menu options for lunch and dinner—prices can vary from $45 to $90 dollars, depending on your hunger levels. Because even though you'll be going for the breathtaking view and decor, you'll be staying for the food. And the jug of refreshing Sangria, of course.
Image credit: supplied
---