Dutch Vinyl Records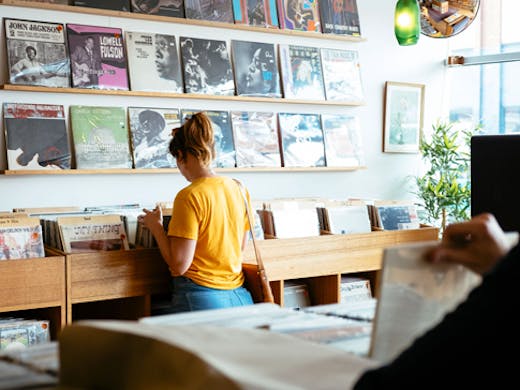 The Verdict
There's no doubt about it: Melbourne is ageing backwards when it comes to music. If you don't have a retro turntable hooked up to a killer amp at home, do you even really have ears?
And one of our favourite places to dig the crates is Dutch Vinyl Records in Abbotsford, a hub of second-hand discs and new records imported from The Netherlands.
Located on the Johnston Street drag, this cozy little nook is stacked with vinyl (go figure) and has everything listed in alphabetical order on the shelves. There's a big emphasis on record quality and fidelity here, which is why the records are kept in a frosted inner sleeve as well as Blakes (a clear outer sleeve). A nice little touch that makes sure your vinyls are protected when they're not in action.
If you've got records to sell, Dutch Vinyl will take them in and give them a second home (everything but a 78 RPM-style). Shopping for tunes? You get the top pick in all the genres, with everything from pop to punk and even some traditional Dutch music thrown into the mix.
Not only can you spin the decks to your heart's content, your records can also get a good clean: there's a Clear Audio Sonic Professional record cleaning machine on offer at the store. Bring in your own records and they'll clean them for three bucks—less than the price of your morning coffee.
We like the sound of that (no pun intended).
Image credit: Dutch Vinyl
---