East Brunswick Hotel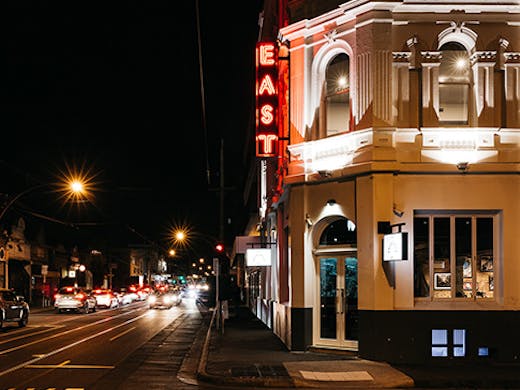 The Verdict
It's been quiet for 18 months, but the East Brunswick Hotel is finally back. New management, new menu, pretty much new everything.
This place was built back in the 1880s. For a long time, it was known as the East Brunswick Club, a popular band room and live music venue, before getting a gastropub makeover back in 2015. Long story short—that angle didn't really work. The building sat dormant for a year and a half.
But now Publican Scott Didier has taken the reigns, and he's determined to get back to basics.
"Both my grandparents lived in Brunswick and I grew up in the area. The history and presence of this venue make it one of the most unique pubs in Melbourne and one with so much potential as a community pub, boutique hotel and home to live music," he says.
Live music is the key—Scott has revamped the public bar and brought back the old stage. It feels more industrial here now—you've got booth seats, exposed brick walls and a chunky bar made from upcycled timber from the Mornington Pier. The plan is to run live gigs down here from Thursday to Saturday.
For food? Think classic pub grub from head chef Terence O'Sullivan (ex Gran Hotel). Nothing too fancy really, mac n' cheese croquettes, ale-steamed mussels and big 300g Hopkins River T-Bones. Good, solid gigging food.
Head downstairs and you'll find the new underground cellar, which stocks a lot of the wine, plus a private dining room for functions and parties. Upstairs there's a swanky cocktail bar with marble bench tops, chandeliers and a balcony overlooking Lygon St.
Last but not least, you've got an actual, 12-room boutique hotel (starting at $189 per night). The fit-out in here is stunning, and it's an interesting option for interstate travellers who might be bored of the CBD scene.
It's good to have you back, EBH. Lygon Street wasn't the same without you.
Image credit: East Brunswick Hotel
---