East End Wine Bar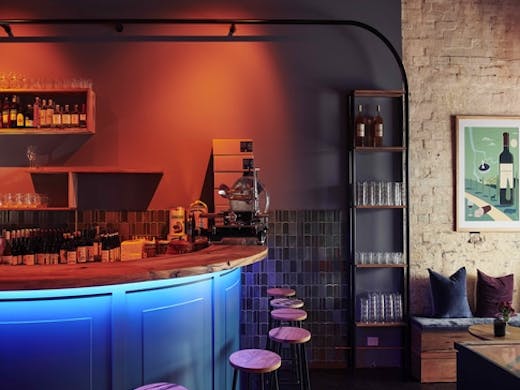 The Verdict
East End Wine Bar is co-owned by Demon's ruckman Max Gawn, Saint James owners Rich Donovan and Craig Tate, as well as Burnley Brewing operator Phil Gjisbergs.
Housed in the iconic century-old 1930s auction house in Hawthorn East, East End Wine Bar is a warm yet modern establishment that feels nostalgic and familiar. When you walk in you'll feel right at home in the warmly lit, homey ambience.
"One of the biggest drawcards to this project was the space," Donovan says. "Youngs Auction House has been a staple in the area for over 80 years, so to be able to transform this heritage building into an elegant wine bar was a no-brainer." The interior reflects an English pub but with a modern Melbourne twist, including an intimate indoor space as well as an outdoor alfresco courtyard.
East End boasts an impressive drinks menu with a wide variety of wines. The menu has been designed to be paired perfectly with your nibbles of choice, such as charcuterie boards, a selection of pizzas, preserved meats and other small dishes. With the Rivoli cinema across the road, they're the perfect pre-movie snacks.
We're sure this will become one of your new local favourites.
Image credit: supplied
---