Eastern Road Larder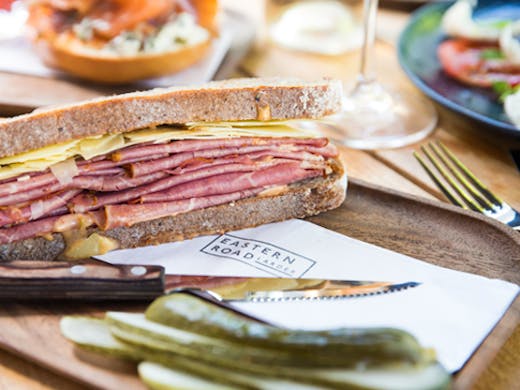 The Verdict
The Melbourne hospo scene is all about who you know, which is why Eastern Road Larder has got us pretty excited. Owner Renton Carlyle knows everybody.
This is the guy behind some of Melbourne's favourite wine bars: The Hills, Milton Wine Shop, The Alps, Toorak Cellars, The Moon, and Bridge Rd newcomers, Burnley Brewing (does this guy ever sleep?).
This time Renton is doing something a bit different: a South Melbourne deli, provedore, sandwich shop and wine bar all in one. Somewhere office workers can come for a quick pastrami sanger, or relax after work with a good glass of Pinot Gris.
Renton and his wife Kathryn Bennett are running the business together, roping in some of their favourite local growers, makers and producers. We're talking Wagyu pastrami from Quattro Stelle in NSW, by-the-glass vino from Garagiste on the Mornington Peninsula, gravalax from Harris Smokehouse (which go nicely with the Glick's bagels). You get the picture—it's a Who's Who of Aussie suppliers.
Eastern Road's got a rotating wine list. If you want to know what's pouring today, check out the chalkboard on the wall. Half the drops come from Italy, and the other half from Victoria. They go down well alongside a cheeseboard or charcuterie plate from Savour & Grace. In fact you can even pick these bad boys up to-go.
The space on Eastern Rd is cosy, but there's outdoor seating if you want to catch some Vitamin D. Come inside and get chatting to Renton and Kathryn—they can whip you up a bagel or help you pick something from the well-stocked cheese cabinet.
Shout out to Jason Blake of IAMNOTMASON for the interiors—they're bang on-trend. Think stained walnut timber, dark parquetry on the floors and a folding glass frontage which can open up to get the breeze.
Next time you're down in South Melbourne, drop in and say hi. Just don't leave without a big box of cheese.
Image credit: Jenna Fahey-White
---
You May Also Like
Food & Drink
Melbourne, VIC
Fans of flavour and seafood feasts, listen up. Louisiana-style Crawfish sensation,…