EatClub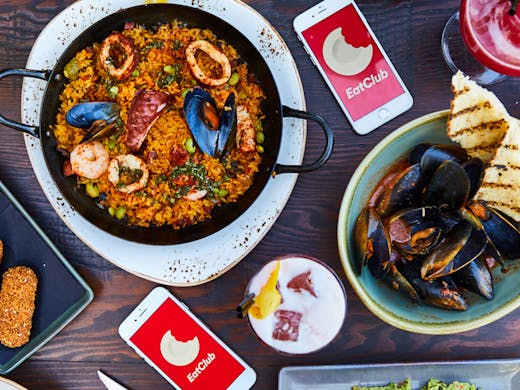 The Verdict
If you like eating out as much as you like saving money, EatClub is the app you need in your life. And the best bit? There's nothing budget about it!
It works like this; great restaurants with a few spare tables can instantly upload last-minute deals in an effort to fill their venue. These deals are then available for people to claim on a first-in, best-dressed basis.
So let's say you're about to head out for dinner but you can't decide where to go. You whip out your trusty EatClub app and see what killer Melbourne restaurants are offering deals in the next couple of hours, select one, book yourselves in and make your way there pronto!
Whether you're hungry for hearty eats at The Meatball & Wine Bar, Cochin's Vietnamese deliciousness, +39 Pizzeria's traditional Neapolitan pizzas, or any number of the other 170 amazing restaurants on offer, EatClub will have a deal for you—be it 30% off or 50% off. And the deals don't just cover food, they cover drinks too, so you could score yourself a bottle of pinot for 50% off!
EatClub is all about getting the people of Melbourne eating out more often, so to those of you who prefer to have their food delivered, we say: hot food, fresh food, delicious food and no delivery fees. We're pretty sure that's enough to get you off the couch and out the door! If not, we can guarantee that food tastes better when it hasn't been crammed into a plastic container and driven around for 20 minutes. Not to mention how much better you'll feel after a night out rather than plonked in front of the TV.
So what the heck are you waiting for? Download the EatClub app for iPhone or Android now and get booking!
Image credit: Michelle Jarni
---
You May Also Like