Ebenezer Coffee & Wine Bar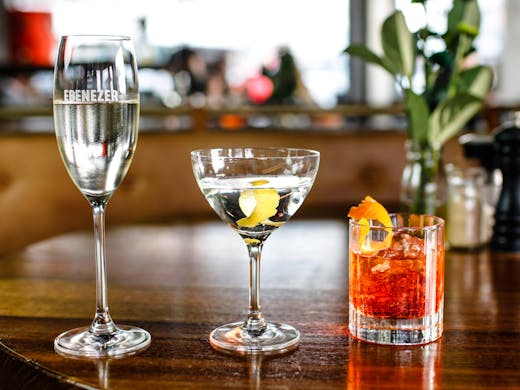 The Verdict
Since first emerging onto the Bayside dining and drinking scene in late 2014, Ebenezer Coffee & Wine Bar—a restaurant, bar and cellar door, all rolled into one—has been building upon its reputation as a fantastic place for a coffee or vino to become one of the hottest locations in the outer suburbs.
Championing mouth-watering local produce, with a particular focus on boutique Victorian wines and rich, perfectly prepped Seven Seeds coffee, the Bayside venue brings together everything that we love: Delicious food that focuses on quality and flavour over fancy-schmanzy techniques, fantastic Insta-worthy interior design (and the views to match), and an insight into where its all come from, from the light fittings to the freshly baked pastries.
Spearheaded by Duncan Thomson, previously the director of Arts Centre Melbourne's food and beverage precinct, who has spent over 20 years sourcing the very best that Victoria has to offer, Ebenezer Coffee & Wine Bar's latest menu reinvention spices up standards from Head Chef Jason Greenwood (ex-Circa - The Prince, Gazi, and,Seven Seeds, amongst others) with a blend of Asian influences while holding onto breakfast faves. Thomson also continues to support the best of the local wineries, hand-selecting a variety of wines from nearby producers who are experts in their vine-laden fields to ensure that drinkers discover something new with each visit.
If you're starting your day here, you'll still find caramelised fig and strawberry-topped hotcakes, the classic Ebenezer Benedict (yes, with hash browns!), sliced avocado, feta and mint on toast, and a bacon jam-topped burger. Of course, the life-changing Cuban pulled pork sandwich is still there too, with a few re-worked touches.
However, it's the new additions to the evening menu that are shaking up our tastebuds. The soft shell crab sliders with Sriracha mayo and Asian slaw, and the duck aranchini balls both make for incredible sharing plates, but it's the indulgent seafood paella with chorizo, squid, baby clams and prawns that makes for an epic date night feast. Designed for two and paired with an exquisite local wine, you'll be raving about this one for weeks to come.
Ebenezer is also upping the stakes when it comes to excuses to pop in, as if you'll need one. Drop by before 9am and you'll snag a coffee for a mere $3, or gather your wine-loving crew and book in for one of the venue's up-coming Speciality Wine Maker dinners, which feature an appearance by the pros at Medhurst Wines and Rouluer Wines. And if you're looking for the perfect Bayside spot for a relaxing afternoon tipple, pick up a variety of cocktails and wines for half their usual price, from 4pm until 6pm, Thursday through until Sunday, or treat yourself to their show-stopping espresso martini… Wait, did someone say aperitivo?
Whether you're a local looking for a venue to call your second home, or a foodie in need of an excuse to venture out of your usual 'burbs, Ebenezer Coffee & Wine Bar simply deserves to be on your hit-list. We're calling it now, folks: This is definitely one to watch.
Image credit: Gareth Sobey for The Urban List
---