Einstein's On Albert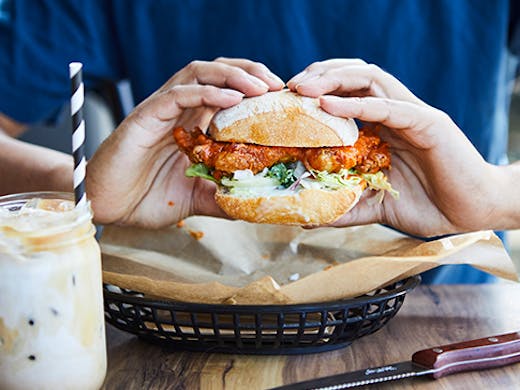 The Verdict
Melbourne is having a serious moment with sandwiches. We might be in love.
Einstein's on Albert are the new kids on the block offering creative tastes between two slices of bread. All bread is preservative-free from Dench Bakers, veggies are sourced from the Yarra Valley and nearly every sauce, dressing and condiment is made in-house. Every sandwich can also be ordered as a salad, for health-conscious Melburnians.
Smoked pastrami is the real highlight here, inspired by the NYC pastrami scene. Special care is taken to source only the best cuts of pickled brisket which is smoked low 'n slow for an authentic finish (no silverside here).
For brekkie, forget the overnight oats (although it's available if it's your fave) and opt for something different. The Piggy Smith is an example of their quirky, decadent brekkie sambo with crispy bacon, thin-sliced apples, cheese and honey sandwiched between gloriously toasted bread.
When lunchtime rolls around, we're all about the Buffalo Blue. House crumbed buffalo chicken, caramelised onion, lettuce and blue cheese sauce are sandwiched between a crispy ciabatta.
The Reuben is arguably the biggest player in Melbourne's sandwich craze, and the crew at Einstein's On Albert pays it every respect it deserves. Every Reuben is the product of four days of labour—the house sauerkraut ferments for four days, and is layered on low 'n slow brisket pastrami, topped with pickles and a secret tangy Russian dressing.
For vegetarians or vegans, there is the Portobello Pepper (crumbed mushrooms for everyone) and the Green Bean (featuring sugar and snow peas, soft boiled eggs and parmesan), which can be served in bread or a bowl.
Padre or signature darker house blend coffee is also on offer, because no lunch is complete without a proper brew.
When it comes to sandwiches, not many cafes handle it better than Einstein's on Albert.
Image credit: Michelle Jarni
---
You May Also Like
Food & Drink
Melbourne, VIC
Fans of flavour and seafood feasts, listen up. Louisiana-style Crawfish sensation,…