Ends & Means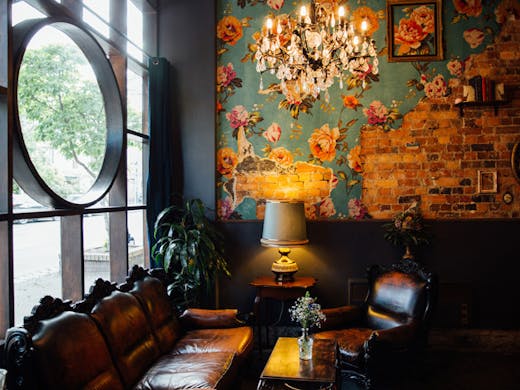 The Verdict
At first glance, Ends & Means might look like your average Fitzroy cocktail bar. But after some deep investigation (aka cocktail sampling), we learned it's much more interesting than that.
Co-owners Josh Hunt, Marc Frew, and Ryan and Mitchell White, opened Ends & Means on Gertrude Street during Grand Final Weekend this year. The building (built in the 1850s) once housed the Aboriginal Public Housing Board of Victoria, and more recently, Radio Bar & Cafe.
The ethos behind Ends & Means is pretty bold and refreshing for a Fitzroy cocktail bar: deliver a handcrafted, world-class drinking experience with a low environmental footprint, and as ethically as possible. Everything in the space has been either traded, repurposed, or built by hand. (Which, in a world of mass production, is not something a lot of venues can boast about.)
Because they only use whatever fresh, local produce is available and in season, the drinks at Ends & Means change every week, which is great news for those of us with a short attention span. (And if you're a creature of habit, don't panic: they'll happily make your favourites in a heartbeat.)
A lot of the ingredients (syrups, for instance) at Ends & Means are made from scratch and all their produce is used from root to tip, to minimise waste. They don't serve packaged beers or soft drinks either—if you order a gin and tonic, the tonic will be made in front of you from tap soda mixed with their handmade tonic syrup. If you order a beer, you'll get a taste of whatever local beers are on rotation that week.
And don't be fooled by the small space: Ends & Means buzzes with energy even on a Wednesday night. So if you're tired of all your regular Fitzroy haunts, you definitely won't be disappointed if you give this one a try.
Image credit: Annika Kafcaloudis
---