Entrecôte | South Yarra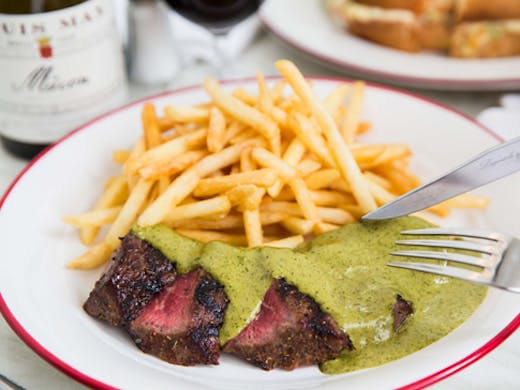 Jason M Jones' Entrecôte in South Yarra is living proof of the whole 'less is more' motto. This place pretty much built its reputation on a single plate of unbelievably delicious food: the fabled steak and pomme frites (steak and french fries, if your French isn't up to snuff).
Here's how Entrecôte does it. You take a porterhouse cut of grass-fed, Black Angus beef, sourced from Cape Grim in Tasmania (fast becoming Melbourne's gourmet beef bowl). You grill it to perfection, seasoning gently. You then serve it with bottomless, golden french fries, a vinager'd green salad, and a house sauce that will blast your pleasure synapses.
The sauce is known as maison au beurre et aux herbes—it's a butter-fuelled herb bomb, turned luminous green with a mystery mix of herbs (our money's on sage, tarragon, parsley and basil, but Jason M Jones is staying more tight-lipped than Colonel Sanders on this one.
If steak isn't your speed, Entrecôte can whip up the usual array of high-end French bistro fare. There's also a great hole-in-the-wall coffee bar out back, where you can order straight off the street (very popular with South Yarra locals on Sunday morning...)
Lock in your next date night, people. It doesn't get much better than this.
Image credit: Jenna Fahey-White
---