Eureka Tower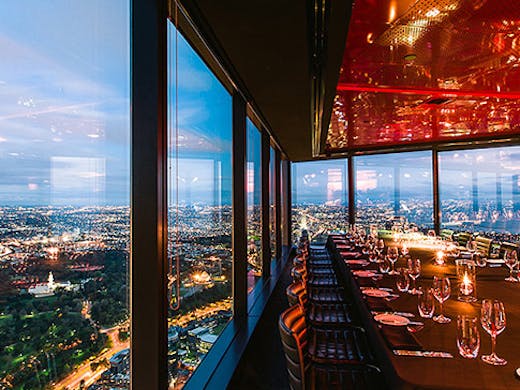 The Verdict
Eureka Tower is hard to miss. Literally.
It looms high above the Southbank cityscape at a whopping 297 metres (297.3 really, but who's counting?). That's approx 2079 iPhone Xs, stacked on top of one another. Please do not fact check this. That maths took us four tries and twenty minutes to get right, and we stand by it.
The Eureka is also still a bit of a city newbie, at least when compared to a lot of Melbourne's historic landmarks. It didn't open to the public (us) until 2006. There was a lot of controversy at the time. Melbourne had never seen a building on that kind of scale before. People worried its shadow would cast South Melbourne into a land of permanent darkness like something out of Lord of the Rings.
Now, Eureka is kind of unbeatable when it comes to eye-catching views, and the city has more or less embraced its towering omnipresence. It's perfect for first dates, a fancy dinner, a touristy adventure or a school trip. It's also the first thing you spot when you're driving home over the West Gate Bridge.
Let's start with Eureka's most iconic attraction: the SkyDeck. The fastest elevator in the Southern Hemisphere (please don't eat anything right before you go on it) shoots you up 285 metres to the SkyDeck. From here, you can pretty much see everything. Look, there's St Kilda! There's Brunswick! Take in the bustling grid of Melbourne with wall-to-wall 360-degree views. The SkyDeck is open late, so you can come anytime until 10pm and see Melbourne lit up all purrty like.
If you feel like something a bit more daring, venture out onto The Edge. It's a glass cube that extends from the 88th floor of the SkyDeck. We're talking glass everything—ceiling, walls and floors, so this isn't for the faint-hearted (or those afraid of heights). You can glance down, straight through the floor, and see what it'd look like to fall alllllll the waaaaaay doooown.
If you're looking for dining with a dizzying view, you can't really beat Eureka 89. It's at the tippiest top floor of the entire building (hellooooo, vertigo). There's red, ambient lighting, black leather seats, and tables pushed right up against the floor-to-ceiling windows. You'll be getting the best view in Melbourne while you eat. Period.
The menu here is a degustation—and we love a good degustation—that can be made for 5 or 7 courses. This is the kind of place you'd want to take that mother-in-law you're dying to impress. A sample from the menu: you can dine on quail, smoked carrot, cauliflower and a crispy potato wafer, and don't miss the Tasmanian Cape Grim Beef with mushroom and charred baby onion.
Veggos, there's options for you too, with egg tofu, mushroom broth, daikon, and enoki crisp, or Comté cheese with pumpkin and ricotta. Degustations can be paired with a selection of different wines per course, most of which are sourced from vineyards you can almost see (not many restaurants can boast that).
The drinks list is pretty popping, and as a recent addition, Eureka 89 is now doing whisky and cocktail flights. Choose between three tasting cocktails, or four tasting cocktails. Sip, sigh, and take in the view. Our personal favourites would have to be the 'Lychee on Viola'—Grey Goose Citron, lychee liquor, lemon and massenez violet liqueur.
Here's the action plan: take a trip up to the Skydeck, test your nerves on The Edge, calm your nerves with a few shots of whiskey and then settle down for a long and luxurious degustation.
Yep, sounds pretty good to us.
Image credit: Southbank Restaurants
---