Evies Bar & Diner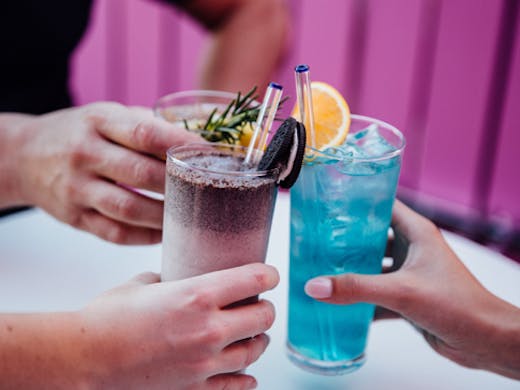 The Verdict
Every so often a venue comes along that defies description. But what the hell, let's give it a go: Evies Bar & Diner is an awesome new 1980s retro vegan-friendly warehouse diner and disco bar on Gertrude St. AKA the coolest new opening of 2018. Phew. Yeah that about sums it up.
Evies is the new project from hospitality pro Wayne Markus, and you can't fault this guy for ambition. Not only is Evies a kickass burger and cocktail bar, there's also DJ and dancefloor, 50% of the menu is animal-free, and the venue has cut-out most plastics (even the straws are made of glass). Late night raves and environmental responsibility don't usually go hand in hand, but hey, there's a first for everything.
Let's start with the menu. Vegan hot dogs with mayo and guacamole, vegan chilli cheese dogs (with animal-free con carne and cashew sour cream), even a range of gluten-free nachos, onion rings, chicken n' waffle bowls (!!) and blue ranch fried chicken burgers. It's like a South Yarra health-food store had a baby with the Twin Peaks' Double R Diner.
Meatheads, don't worry, Evie's hasn't forgotten about you either. The Evies Cheeseburger is a solid start (you can upgrade with extra patties, cheese and bacon), or just go straight to the Mr Fatso—beef patty, bacon, cheese, lettuce, tomato, onion, pickles and onion rings. For sides? Maybe some house-cute French fries, or jalapeno poppers with blue ranch dressing (yum).
Thirsty? Evies stocks everything from natural fermented wine to soda floats and spiked thick shakes (go the Cookies n' Cream with Oreos and Baileys). The range of house sodas ain't bad either: made from ethically produced syrup right here in Melbs. You can even get freakin' root beer.
After dark is where Evies really shines. There are surprisingly few places around Gertrude St to get a good late night feed, but Evies has secured a licence till 1am Thurs – Sun (there's plans to go even later down the track). The dance floor kicks off at night with DJs spinning the tracks and cocktails galore.
Trust us, there are a few openings each year that set the bar for the next 12 months. You'll be seeing a LOT of Evies on your social feeds in the coming weeks. Get in early and see what all the fuss is about.
Image credit: Annika Kafcaloudis
---
You May Also Like
Food & Drink
Melbourne, VIC
Fans of flavour and seafood feasts, listen up. Louisiana-style Crawfish sensation,…