Faraday's Cage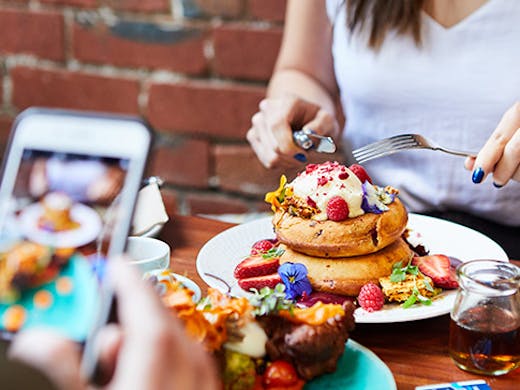 The Verdict
We don't know about you guys, but we get SERIOUSLY excited about croissants. Especially the buttery, flaky, I'm-never-washing-my-mouth again ham and cheese croissants from Faraday's Cage in Fitzroy.
This café and artisan bakery opened up back in 2015, and it's been quietly blowing locals' minds ever since. We could write a short thesis on their pastries alone, which are baked on-site daily (bc tradition), but these guys have a couple of other tricks up their puff pastry sleeves...
Faraday's owner, John Petrou, spent most of his career as a dentist and electrical engineer (hence the name Faraday's Cage—literally an enclosure used to block electromagnetic fields) but made sourdoughs and pastries on the side (talk about an all-rounder). After three decades of baking from home, he decided to upgrade his baking hobby to a full-time career, this place is the result.
The warehouse space was once home to Adelphia Recording Studio (fun fact: it's the same studio that produced records for John Farnham, Tina Arena and Gotye). Inside you've got old-school red brick walls and a counter full of fresh-baked pastries, plus shelves stocked with gnarly sourdough, baguettes and rye loaves.
The pastries, bread, tarts and vegan sausage rolls are baked fresh, in-house every day. Can't sit down for a feed? No worries, you can grab these bad boys on the run. Strictly no sharing with your mates though. These things are too good. Make them get their own.
The seasonal menu serves up all-day brekky and lunch with a 'can't decide' breakfast board for those who suffer from serious food FOMO. Expect hot smoked salmon fritters, cheesy croquettes, brisket burgers and mouth-watering ricotta pancakes with caramelised white chocolate and broken meringue. Nobody leaves Faraday's Cage hungry...
Our personal pick? Seriously, those ham and cheese croissants. They give Lune a run for their money.
The coffee at Faraday's comes courtesy of Dukes Coffee Roasters (one of our personal faves).
Drooling yet? If you need us on the weekend, you know where we'll be. ​
Image credit: Michelle Jarni
---