Farro Hawthorn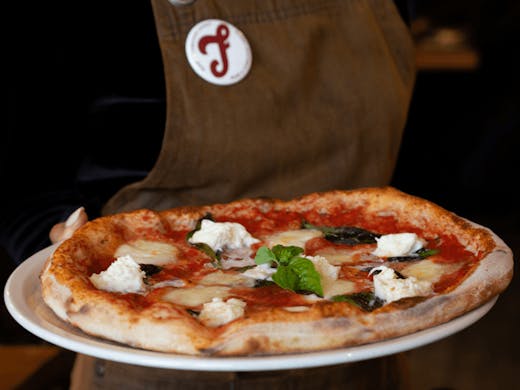 Hawthorn is the latest suburb to join the Farro collective. The spelt-based pizzeria has been a Melbourne go-to with their stores in both Fitzroy, Thornbury and Windsor, but it's time for Glenferrie Road to get a run-in.
Farro, which is Italian for spelt, is a high fibre ancient grain that's been shown to boost your immune system and aid in digestion. Co-owner Nico D'anna says "it's better for you and better for the planet" and this healthier take on pizza has clearly won crowds with Farro becoming a household name in Melbourne's pizza scene. After the success of their first Thornbury venture, the Farro team have continued to sling sourdough spelt bases and gluten-free pizzas all across Melbourne suburbs.
Farro's not-so-secret ingredient is their 72-hour slow-fermented pizza and pasta dough. Chef Hugo Dief fused his knowledge of French cuisine with his Italian roots to develop this delectable dough, also crafting vegan and gluten-free alternatives so no one leaves feeling hungry.
Dishes at the new diner include the fresh burrata topped with house-made pistachio pesto or the vegetable-based Arancini served with a spicy Arrabbiata sauce. While plant-lovers can opt for Patate e Tartufo pizza, topped with thinly sliced rosemary potatoes and black truffle cream, meat-inclined patrons can opt for the Tagliatelle with slow-cooked lamb ragu, marinated in organic tomatoes, full-bodied red wine and Italian herbs.
If you prefer to get in early, Farro's doors are staying open Saturday and Sunday mornings. Throw the rulebook out the window and order gnocchi with poached egg and sausage for breakfast or the house-made spelt Tiramisu hotcakes.
Image credit: Raoul Gerard
---